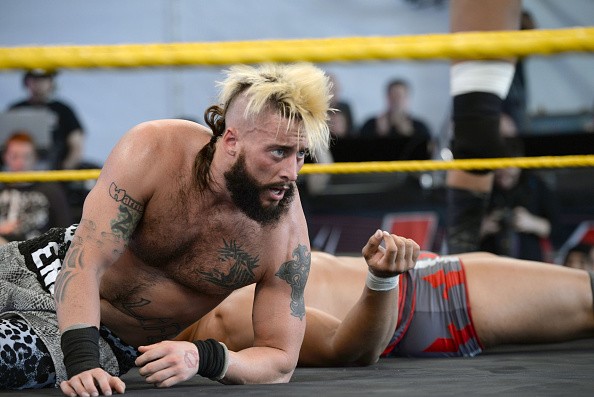 WWE has taken the decision of suspending WWE Cruiserweight Champion Enzo Amore after sexual allegations were labelled against him. Several pro wrestling fans have reacted with shock to the news.
"WWE has zero tolerance for matters involving sexual harassment or sexual assault. Until this matter is resolved, Eric Arndt (aka Enzo Amore) has been suspended," WWE came out with the statement just ahead of the Raw 25 anniversary episode.
***BREAKING** READ: Enzo Amore has released a statement after WWE fires him!

A twitter user going by the name 'Philomena', who hails from 'Hell', has made all the allegations.
OKAY..it's been long enough & I have been so so scared to share this. I was raped in mid October by the WWE Enzo Amore (also known as Eric Arden) & Tyler Grosso & TOOPOOR let it happen as accomplices. I was in a mental hospital for 45 days after it. They ARE NOT good people. pic.twitter.com/VhyG6oaDwg

— philomena (@missgucciwitch) January 22, 2018
Most people only blame Enzo but believe me Tyler & Layla were 100% aware & involved & hopefully if these charges go though & they all get prosecuted I'll feel so much safer. I love you & thank you so much.

— philomena (@missgucciwitch) January 22, 2018
Im saying whatever the fuck i was snorting was definitely not just coke & meth. I was straight drugged.

— philomena (@missgucciwitch) January 22, 2018
BTW the treatment stay was supposed to be 45 days long but I started using my roommates phone around day 20 to get on social media & I left the center against medical advice around 26 days

— philomena (@missgucciwitch) January 22, 2018
'Philomena' alleges that she was drugged by not only Enzo but also Tyler Grosso and Toopoor. She was later raped by the trio. This made her get admitted to a mental hospital for 45 days.
We don't really have much information on who the woman is but judging by her profile, she seems to be someone who posts X-rated photos and updates quite frequently.
So a girl is claiming Enzo Amore raped her last year. Except she also claims she was on cocaine, weed, and meth all at once and her twitter is filled with her bragging about using cocaine and other hard drugs. Forgive me for not instantly believing her with zero evidence.

— Preston Watson (@Master_P2) January 22, 2018
Wow it's amazing how Twitheads just assume Enzo Amore is 100% guilty before the story has hit the News. You know Twitter the same place that claimed Willie Nelson died 58 times last year. #InnocentUntilProvenGuilty

— Joseph (@wwereject) January 22, 2018
Tweeting serious accusations like what's been aimed at Enzo Amore is ridiculous. Why is trial by social media a thing? I'm not saying he's guilty or innocent but tweeting stuff like that is not the right way to go about it. Report it to the police. Let them do their job.

— James (@LLCoooolJames) January 22, 2018
// I get that Enzo Amore is a prick and people can't stand him, but some of the tweets I'm seeing, were from the same people saying "Innocent until proven guilty". How are you going to have a rule for some and a different rule for others? Say what you mean and mean what you say.

— Angelina The Angel. (@UglyCleanser) January 22, 2018
Enzo, 31, signed a contract with the WWE in 2012. He made his name after allying with Big Cass in NXT the following years before the partnership broke in 2017. After a few matches against Cass, Enzo made his Cruiserweight 205 Live debut.
Cass, meanwhile, still remains in the sidelines after undergoing a knee injury.
At the No Mercy 2017 pay-per-view event, Enzo won the Cruiserweight championship after beating former WWE superstar Neville via a low blow. Despite Kalisto beating him in plenty of matches later on, Enzo managed to successfully win the title back.