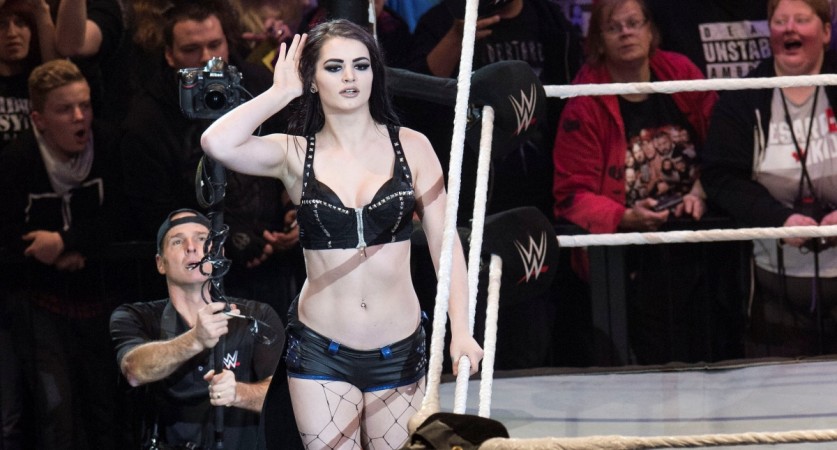 It's official! As expected, WWE superstar Paige has been ruled out of the historic Women's Royal Rumble match scheduled at the 2018 Royal Rumble pay-per-view (PPV) event on January 28.
WWE has released a statement during Monday Night Raw on January 15 mentioning that a neck injury will rule her out of the PPV event. Her Absolution teammates Sonya Deville and Mandy Rose will however be a part of the match, along with certain surprising entrants like Mia Khalifa or Kavita Devi or even Ronda Rousey.
"Paige will not compete in this year's historic 30-Woman Royal Rumble Match due to a neck injury. Paige will, however, be at the Royal Rumble event to support her Absolution allies, Mandy Rose and Sonya Deville," the pro wrestling promotion mentioned in the statement.
Tragedy took place on December 28 during a WWE road show in Long Island, while a six-woman tag team match featuring Absolution against the team of Bayley, Sasha Banks and Mickie James, was under way.
Midway in the match, Sasha kicked Paige at the back with both her legs at a juncture when the latter wasn't ready to take a bump on the mat. As a result, the 25-year-old British pro wrestler, thumped face down and couldn't regain the strength to get back up.
Moments later, a stretcher was brought on and the match stopped.
Paige, who made her grand return as the leader of Absolution last year following over-a-year-long absence due to a neck surgery, suffered a stinger following the incident in the Long Island show. She eventually lost the feeling in her extremities.
Reports have even claimed that Paige, 25, has had her pro wrestling career cut short over the incident, but so far, no mention of her possible retirement has been made as yet. Therefore, nothing can be ruled out.
Paige was asked over her non-participation at the historic Women's Royal Rumble. This is what she said during a WWE interview.
"Unfortunately, as much as it pains me to say this, I do have to unfortunately stay out of this Royal Rumble by the doctor's orders. I really, really, really, really wish I could partake in this history-making match with all these ladies.
"But, however, I will be there to support my Absolution team, i.e, Sonya Deville and Mandy Rose, because guess what ladies, Absolution is so gonna make the Royal Rumble match their house."