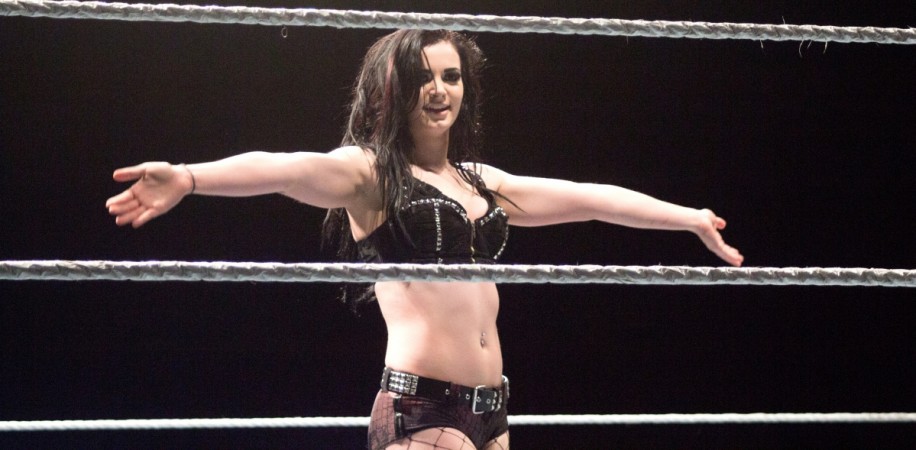 Pro wrestling fans around the world have woken up, come across the shocking reports of Paige's possible WWE retirement with utter dismay. PWInsider reported on Friday night (Saturday morning in India) that the returning WWE superstar is "done" with pro wrestling, as per several sources.
Tragedy took place during a WWE road show in Long Island on December 28, 2017. Paige, along with her Absolution teammates Mandy Rose and Sonya Deville, took on the team of Sasha Banks, Bayley and Mickie James at the at the Nassau Coliseum in Uniondale, in a six-women tag team match.
Midway in the match, Sasha kicked Paige's back with both her legs at a juncture when the latter wasn't ready to take a bump on the mat. As a result, the 25-year-old British pro wrestler, thumped face down and couldn't regain the strength to get back up.
The referee had to call the medical personnel after a few moments and even a stretcher was brought on. Paige, however, mustered all the courage to get up finally and walked out of the ringside with the help of the officials.
Paige, who made her grand return as the leader of Absolution last year following over-a-year-long absence due to a neck surgery, suffered a stinger following the incident in the Long Island show. She eventually lost the feeling in her extremities.
Paige, whose real name is Saraya-Jade Bevis, hasn't been in action on Monday Night Raw since and WWE allowed her to take a break before allowing her to return to in-ring action at the first-ever Women's Royal Rumble on January 28.
However, with the shocking reports cropping up less than 15 hours back, not only is she confirmed to be out of the Royal Rumble match but also probably out of pro wrestling for the rest of life. Former WWF/WWE superstar Edge had to call a premature retirement back in 2011 for this sort of a medical issue.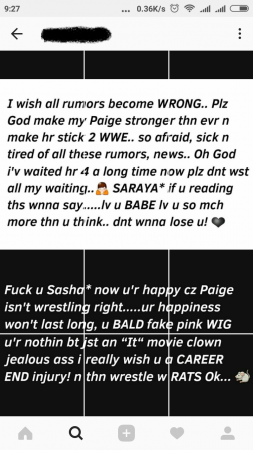 At this tragic time as we await a word on Paige from both WWE and herself, let us condemn the amount of hate Sasha Banks is having to face on social media for that in-ring accident.
Firstly, most pro wrestlers in the world have no reason to compete in the ring with a vile mindset. Pro wrestling is scripted and therefore, just like actors and stuntmen, they have to act their character, according to the script. Causing serious harm is never really a part of the script.
Secondly, anything that tests your body physically, especially in a combat scene, is very risky and accidents are bound to happen.
Sorry to hear about Paige, but blaming Sasha Banks is ridiculous.

No one blamed Owen Hart for cutting Steve Austin's career short or D-Lo paralyzing Droz.

This isnt ballet.

— The Fan's Podcast (@TheFansPodcast) January 13, 2018
Somebody's gotta say it bcuz we have some not-so-smart ppl in the IWC

PAIGE'S INJURY IS NOT SASHA BANKS' FAULT

Shit happens. Paige was out a year with her neck injury. If it was severe enough to end her career then it would've happened regardless of who she was in the ring with

— Abby (@abbyfelicity1) January 13, 2018
Don't start blaming Sasha Banks for Paige's in-ring career likely over.

They know the risks when they go out there...

Accidents happen especially in wrestling. pic.twitter.com/UO2z0xiPkI

— Johnny (@WWEJohnny05) January 12, 2018
Here's hoping good sense really prevails and Sasha, who is known for being one of the most humble superstars and beautiful human beings in the WWE, doesn't have to go through a tremendous guilt, thanks to some needless hate.
Also, we pray Paige recovers really quickly. Missing the Royal Rumble may be a part of fate but life always has a long way to go.
I'm praying for Paige. Health always comes first. Not here to speculate anything, just saying it can be heartbreaking when you know that wrestling has been a love of yours your entire life and then an injury turns out to be serious enough that the performer gets forced to retire. pic.twitter.com/nJqAa1hQeH

— Alexander The Great (@WWETheAlexander) January 12, 2018