One of the most bizarre and surprisingly arousing conversations on Twitter took place between Nia Jax, who is a part of the WWE Monday Night Raw roster and Paige, the gorgeous brunette who is training for a return to the WWE.
Yes, Paige, a.k.a Saraya Jade-Bevis is the same personality whose sex tape and nude photos surfaced on the internet earlier this year.
VISUALS: Paige sweats it out in the gym!
The Norwich-born 25-year-old pro wrestler and athlete is rumoured to have broken up with her fiancee Alberto del Rio and is now currently undergoing training at the WWE Performance Center in Orlando, Florida.
Interestingly, only a few months earlier, she was seen hitting the mitts and pads and going through striking drills with her partner Del Rio.
Paige's possible return to the the WWE ring anytime later this year is highly doubtful, although her name has often cropped up to play the character of 'Sister Abigail' -- the mysterious woman referred frequently by Bray Wyatt.
While we wait to see what happens on that front, Paige, currently, is turning quite some attention with her teasing posts on Twitter. She also enabled the comment option yet again on her Instagram posts and her photos, needless to say, are grabbing a lot of attention and strong reactions from fans.
Check out her Twitter posts, off late!
Paige teases her fans by mentioning that her armpits smell beautiful!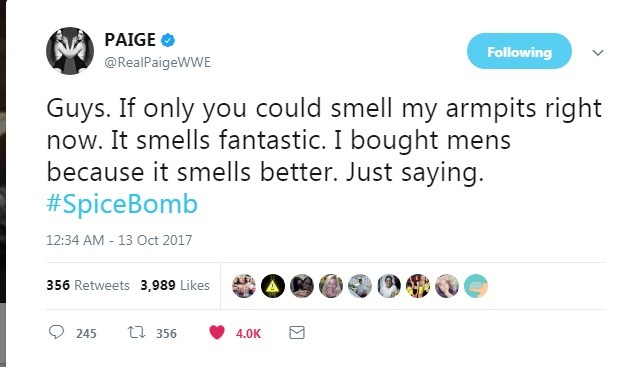 Nia Jax brings out her inner fantasy!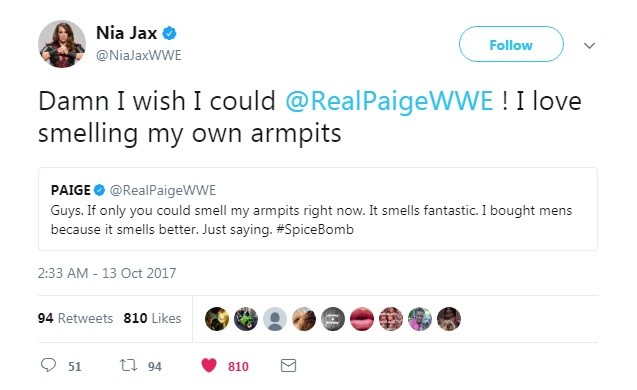 ...And Paige gives in!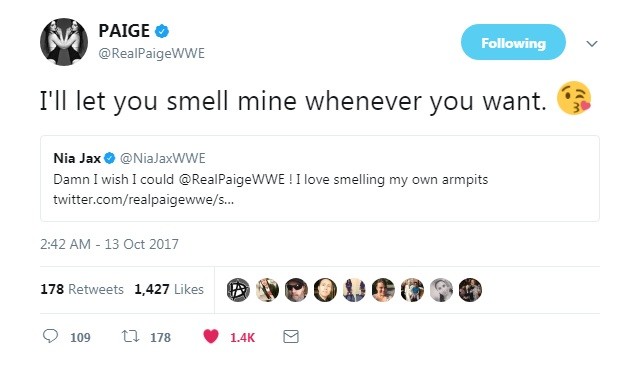 Paige again teases fans, says it's a dream to smell her armpits!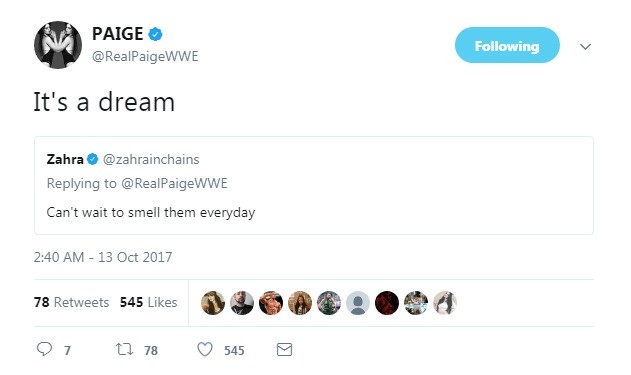 WWE Diva Natalya shares a kinky post with Paige!
...And Paige re-enacts it!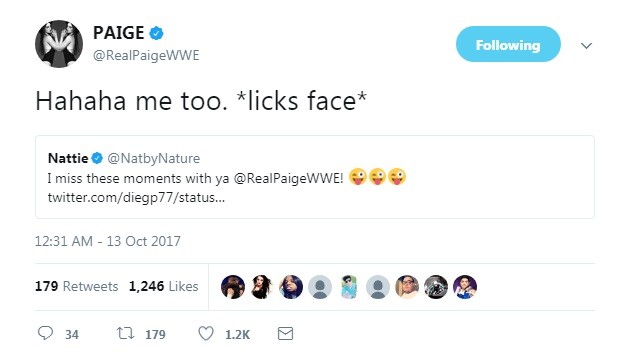 These brings us to the questions if WWE are indeed looking into all these social media chatter and thinking of a lesbian angle storyline featuring Paige.
Remember, there have been plenty of instances in the WWF Attitude Era as well as the WWE PG Era where the likes of Trish Stratus, Torrie Wilson, Layla and even Paige were involved in such storylines!