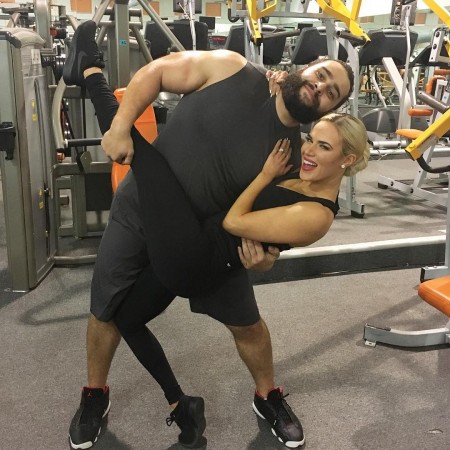 Triple H and Stephanie McMahon could feel a little jealous for not having access to Instagram during their hey-days with the WWE, but nevertheless, we have to accept that the passing of every generation gives its own, unique ways for celebrities to stay in the limelight.
Basically, it's the era of forced-voyeurism and we have no option but to live the life of the Kardashians and the Jenners.
WWE superstars of today are taking access to social media in the best way possible to flaunt their out-of-ring life, their celebrity lifestyle and everything else the fans are feasting more on.
Instagram may have come as the biggest boon for the lovebirds and couples, with plenty of the WWE stars breaking kayfabe to put forward pictures from their honeymoons, vacations...and even bedrooms. Nothing is secret any more. It's the era of flaunting!
Rusev and Lana
The heavyweight pro wrestler Rusev, whose real name is Miroslav Barnyashev may not have been that much of a fan favourite, but following the disclosure of his real-life relationship with the drop-dead gorgeous Lana, WWE fans are talking about Rusev and Lana, almost everywhere.
More on the couple
Rusev
Real name: Miroslav Barnyashev
Born: December 25 1984 in Bulgaria
Major achievements in the WWE: United States Championship (twice)
Lana
Real name: Catherine Joy "CJ" Perry
Born: March 24 1985 in Florida, United States
Got married: July 29 2016
Paige and Alberto
For a moment, let's keep aside Alberto del Rio's recent NSFW language tirade against the WWE. The relationship between the accomplished pro wrestlers came into the limelight only after Alberto was forced to leave the WWE last year.
The couple look like an absolute perfect-pair in their photos and their moments shared on Instagram gives immediate relationship goals!
More on the couple
Paige
Real name: Saraya-Jade Bevis
Born: August 17 1992 in Norwich, England
Major achievements in the WWE: NXT Women's Championship (once), Divas Championship (twice)
Alberto del Rio
Real name: José Alberto Rodríguez
Born: May 25 1977
Major achievements in the WWE: World Heavyweight Championsip, United States Championship, WWE Championship (all twice each)
Got engaged: October 2016