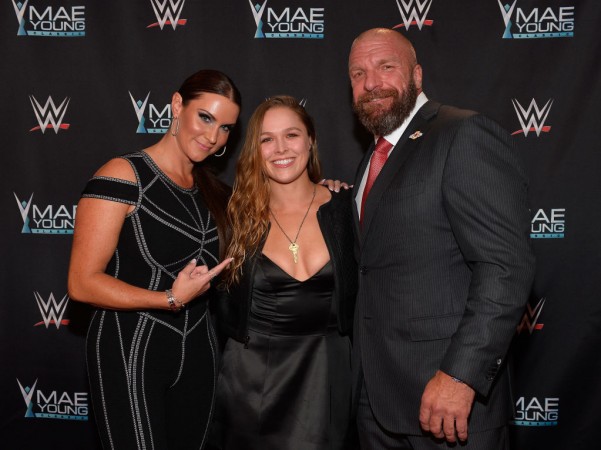 Ronda Rousey stole the show at WWE Elimination Chamber 2018, the final stop for RAW superstars on their road to Wrestlemania 34, pay-per-view event on Sunday, February 25 in Las Vegas.
The former UFC bantamweight champion penned her official contract with the blue team ahead of the main event but not before contributing to some dramatic scenes. Rousey's segment kicked off with her banter with RAW commissioner Stephanie McMahon, WWE COO Triple H, and RAW general manager Kurt Angle.
Even as the impatient crowd was seemingly unhappy with the cordial exchanges, Angle gave it the much-needed impetus when he told Rousey that the power couple was looking to manipulate her with an intention to keep her down. He even revealed some backstage conversations, which triggered chaotic scenes.
Rousey drove Triple H through the table, leaving the fans stunned. McMahon and the former UFC star then exchanged stares before the former slapped the latter.
Rousey also made it clear that she would not be competing in a championship match at WrestleMania and rather would earn one in the future. However, it is quite clear that the 2008 Olympic bronze medallist will take on Triple H and McMahon in a tag team match.
It remains to be seen if the brand can rope in The Rock, with whom Rousey took out Triple H on her first WWE appearance in 2015, for what is already one of the much-anticipated matches at WrestleMania 34.
Elimination Chamber 2018 complete results
Men's Elimination Chamber: Roman Reigns defeated John Cena, Braun Strowman, Seth Rollins, The Miz, Elias and Finn Balor
As expected, Roman Reigns emerged successful by taking out Braun Strowman in the first elimination chamber match, which witnessed the participation of seven men.
Reigns will now take on Brock Lesnar for the WWE Universal Championship at WrestleMania 34.
Strowman was dominating the match, eliminating five superstars. However, with three Spears, Reigns overpowered the former.
Women's Elimination Chamber: Alexa Bliss defeats Bayley, Sasha Banks, Sonya Deville, Mandy Rose and Mickie James
Alexa Bliss created history as became the winner of the first-ever women's elimination chamber, which lived up to the expectations.
Absolution was eliminated first and Sasha Banks and Bayley forged an alliance to take on Bliss.
However, Bliss pulled out a snap DDT finisher on Banks to emerge victorious after the latter had turned against Bayley, thereby failing to keep their combination intact.
Asuka defeats Nia Jax
Royal Rumble winner Asuka continued her winning run when she stunned Nia Jax, who was dominating for the most part of the match.
She came up with a roll-up, which was not perfectly executed but still gave her the win.
Matt Hardy defeats Bray Wyatt
The "Woken" Matt Hardy disappeared as soon as Bray Wyatt entered the ring to leave the latter confused.
The mind games Hardy played on Wyatt worked well as he was successfully used a Twist of Fate on the Eater of Worlds for the pin.
Karl Anderson and Luke Gallows defeats The Miztourage