Apple is all over the headlines after concluding its first day of WWDC 2017 in San Jose. Many important announcements have been made at the event, some focused towards developers and some to attract consumers.
From Siri-powered HomePod and 12.9-inch iPad Pro to iOS 11 and macOS High Sierra, everything Apple announced at its developer conference on Monday was nothing short of impressive. One of those exciting announcements also included the launch of an all new iMac Pro – the all-in-one computer that reinforces Apple's presence in the PC market.
It's not any regular PC where you would stream your favourite Netflix shows. We are talking the real deal here and something best suited for pro users with the most demanding workflows. The all-new iMac Pro can handle the toughest tasks beyond your Photoshop like advanced graphics editing, virtual reality content creation and real-time 3D rendering.
If your daily tasks involve the most demanding work from your PC or you have an endless amount of cash stashed somewhere, iMac Pro is definitely one of the best options available right now. Apple just gave a sneak peek of its new workstation PC for professional users and the shipping will commence in December, with the price starting at a whopping $4,999 in the U.S.
The new iMac Pro is targeted towards specific set of people, so it doesn't really matter to Apple if the PC market is declining. Users who want more from their PC, Apple has got them covered.
The space gray all-in-one computer that's standing with pride has a 21-inch 5K display just like its predecessor 5K iMac. The real change is under the hood, where it packs processors up to 22 teraflops, up to 128GB RAM, and storage can go as high as 4TB. The machines are powered by next-generation 18-core Intel Xeon processors.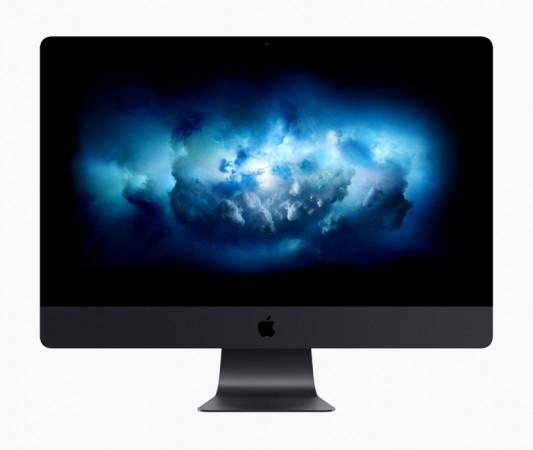 It's worth highlighting that the iMac Pro features a new thermal cooling system, which has two fans, to keep it cool even while running the most powerful programs.
"We're thrilled to give developers and customers a sneak peek at iMac Pro. This will be our fastest and most powerful Mac ever, which brings workstation-class computing to iMac for the first time. We reengineered the whole system and designed an entirely new thermal architecture to pack extraordinary performance into the elegant, quiet iMac enclosure our customers love — iMac Pro is a huge step forward and there's never been anything like it," John Ternus, Apple's vice president of Hardware Engineering, said in a statement.
To make things interesting, Apple has also added our Thunderbolt 3 USB-C ports so you can connect up to two high-performance RAID arrays and two 5K displays at the same time. For better networking, the iMac Pro also comes with 10Gb Ethernet that will boost your network speeds by up to 10 times.