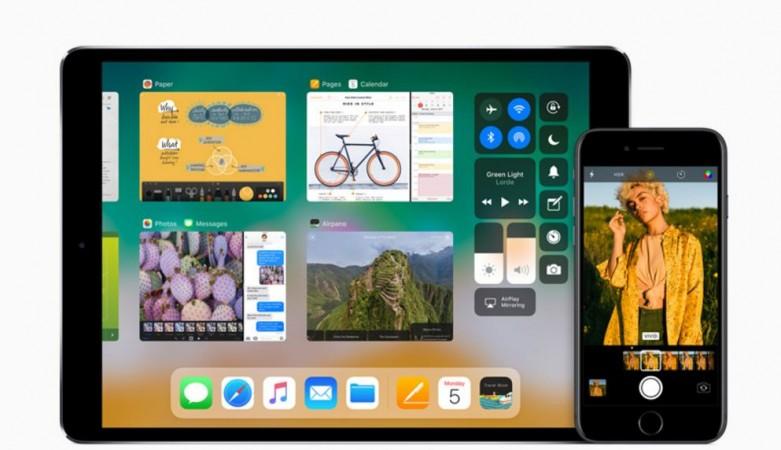 As expected, Cupertino-based Apple announced the new mobile interfaced iOS v11.0 at the company's annual World Wide Developers Conference (WWDC) 2017, San Jose on June 5.
"With iOS 11, we're delivering the biggest AR platform in the world, and it's available today for developers to begin building AR experiences using ARKit for hundreds of millions of iPhone and iPad users," Craig Federighi, Apple's senior vice president of Software Engineering said in a statement.
"iOS 11 gives iPad users the powerful app functionality they need to take advantage of everything iPad is capable of, and brings hundreds of new features and incredible updates to the iOS apps iPhone and iPad users enjoy every day," Federighi added.
As claimed by the company, iOS 11 comes with a truck load of new features and upgrades over its predecessor in terms of efficiency and more. It will made available this September as a free software update to iPhone 5s and new versions, all iPad Air and iPad Pro models, iPad 5th generation, iPad mini 2 and later and iPod touch 6th generation.
Here's is the list of top features coming with Apple iOS 11:
Augmented Reality (AR) experience:
Key upgrade coming in iOS 11 is the Augmented Reality (AR) experience. The company has released AR kit to developers, which offers latest computer vision technologies to build detailed virtual content on top of real-world scenes for interactive gaming, immersive shopping experiences, industrial design and more to iOS 11-eligible devices
Apple Pay gets mobile wallet feature and it's also simpler:
Thanks to iOS 11, Apple Pay, which was previously used just as a cash-less mode of transaction in stores, will now allow users to send/receive money between friends and family's bank accounts via Messages, or tell Siri to pay someone, using the credit and debit cards they already have in Wallet. When users get paid, they receive the money in their new Apple Pay Cash account. They can use the money instantly to send to someone, make purchases using Apple Pay in stores, apps and on the web, or transfer it from Apple Pay Cash to their bank account.
Photo app upgrade:
With iOS 11, iPhone users will be able to Portrait Mode images can be taken with optical image stabilization, True Tone flash and HDR.
The iOS 11 update also makes Live Photos more expressive with new Loop and Bounce effects that create continuous video loops, while Long Exposure can capture time and movement.
With the new update, Apple has introduced a new technology called High Efficiency Image File Format (HEIF) that reduces the file size of every photo taken with iPhone 7 and iPhone 7 Plus.
In Photos, Memory movies are now optimized to play in both portrait and landscape orientation, and more memories, such as photos of pets or birthdays, are automatically created.
Do Not Disturb while driving:
Apple's iOS 11 finally brings the much needed 'Do Not Disturb while driving' feature to iPhones and iPads, which has the potential to save many lives. This is an intelligent feature gets automatically triggered, as it can sense the user is travelling on road. It takes help of sensors on Apple device to user is on the move and once activated, it silences notifications and also keep the screen dark, so the owner focused on driving. It also comes with an option that lets user to create auto-reply message to contacts listed in Favourites and let them know you are driving and cannot respond until they arrive at the destination.
Apple Siri improvement:
With iOS 11 update, Siri become more intuitive thanks to incorporation of machine learning and artificial intelligence codes. It is believed that Siri will observe user behaviour from daily activities such keyword searches on Safari browser including News, Mail, Messages and more to offer customised user- experiences and suggestions that matches your tastes.
Special features exclusive to iPads
Apple's new iOS 11 comes with an exclusive Dock feature for iPads that allows users get quick access to frequently used apps. It also comes with refurbished app switcher that makes it easier to move between pairs of active apps, used in Split View and now Slide Over.
The iOS 11 also boasts new Files app keeps everything in one place, whether files are stored locally, in iCloud Drive or across other providers like Box, Dropbox and more, and with Drag and Drop available across the system, moving images and text is easier than ever.
With iOS 11, Apple Pencil related features get more deeply integrated into iPads with support for inline drawing and a new Instant Notes feature, that allows users open Notes from the Lock Screen itself. Users just have to tap Apple Pencil on the display and start scribbling away on the Note app.
Other notable improvements in iOS 11:
It brings the one-handed keyboard mode, which will greatly help big-screen-based iPhone Plus model users. And, for iPad, it brings new QuickType keyboard, which offers quick access to numbers, symbols and punctuation.
Apple Music interface is now simpler to help users find favourite songs easily and offer option to create a profile, where you can create playlists and share it with friends and vice versa
Apple News app will offer personalized top stories and suggestions from Siri. Users can access best stories hand-picked daily by Apple News editors in the new Spotlight tab and also the most popular videos of the day in Today View.
Apple Maps is also getting a major upgrade. Now, users will get access to indoor maps of airports, malls and other popular landmarks in select top cities
App Store also gets major overhaul in terms of design to make discovering apps and games easier for the users.
App Store for iMessage get refurbished app drawer for more convenient access to apps and stickers, so it's easier to decorate messages, share a song and more.
Control Center now offers more customization, enabling quick access to frequently used controls all on one page, and a new Lock Screen delivers a more convenient way to see Notifications all in one place.
Watch this space for latest news on Apple products.