Do you fancy Louis Vuitton accessories? Then this golden toilet made with the bags from the luxury brand should be on your list. A special toilet, which was created using Louis Vuitton bags, is on sale and it costs just $100,000 (approximately Rs 65, 40,000).
Illma Gore, the artist who created the designer toilet, took three months to make it, which is one of the most expensive toilets in the world. She used 24 different bags worth $15,000 total, including a $3,000 suitcase to make the designer toilet. The brown and golden coloured toilet is covered in the trademark Louis Vuitton monogram.
The "fully functioning potty" is on sale at the Tradesy showroom in Santa Monica, California, for $100,000.
"I won't be sitting on it personally, I think that's a bit lewd for an event but people will be able to sit on it, interact with the piece as well," the Los Angeles based artist told CBS Los Angeles.
Gore is the same artist who created the controversial nude painting of the US President Donald Trump. The painting was on display at the Maddox Gallery in Mayfair, London, in 2016 and even attracted bids of over £100,000.
"The reaction, especially in the UK, has been incredibly supportive. Everywhere apart from America has been great. Who knew it would be such a big deal? I think an artist's job is to take the times we're living in and then set the scene. It is a representation of where we are," The Guardian quoted Gore as saying.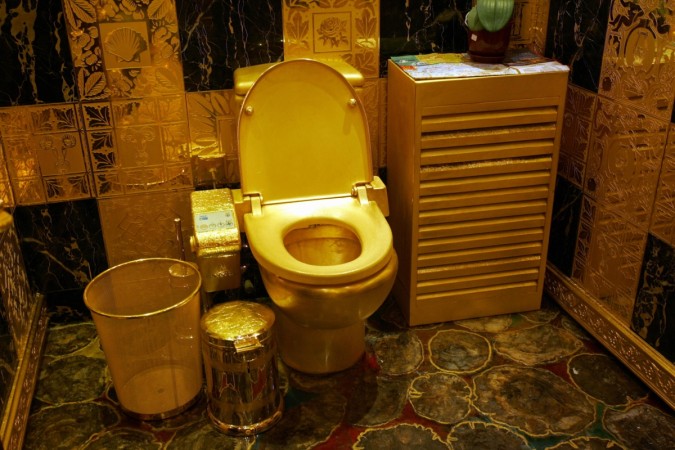 Expensive toilets in the world
Gore's latest designer toilet has joined the list of world's most expensive toilets list. The Moon River Art Park Toilet in Shanghai, China, is made of $750,000 and the luxurious toilet – Hang Fung Gold Toilet – made of solid 24-carat gold and coated with gems made in Hong Kong is worth more than $29 million, according to TIME.