It has been decades since Apple's co-founder Steve Jobs used a traditional job application seeking his first employment as an "electronics tech or design engineer", but he conveyed a strong message about how a person's skill set is beyond a CV. Even though Artificial Intelligence (AI) is simplifying the hiring process now by eliminating the traditional CVs, Jobs' first job application is a testament of how talent lies beyond a few words on a piece of paper.
After dropping out of Reed College in just six months to help his parents with finances, an 18-year-old Jobs did what any teenager would do to help in the matters of money. Jobs filled out his job application in 1973 – not knowing it would one day be a significant piece of electronics history and valued at least $50,000.
As for the job application itself, it is a one-page handwritten resume with notable grammatical errors. The application includes the name "Steven jobs"; address "reed college"; phone "none"; major "English lit" and skills "yes (design, tech) in "Computer" and "Calculator". Jobs also mentioned his "Special Abilities" as "electronics tech or design engineer. digital.—from Bay near Hewitt-Packard [sic]".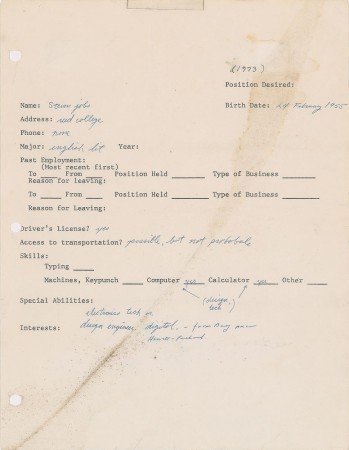 Towards the part where the job application asks "Driver's License?" Jobs wrote "yes", but when asked about "Access to transportation?" he wrote "possible, but not probable."
The job application is expected to be sold at Boston, Massachusetts-based auction house RR Auction with a starting bid of $50,000. The auction opens on March 8 and ends on March 15, 2018. According to the auction house, the job application is in "very good condition, with intersecting folds, overall creasing, light staining, and some old clear tape to the top edge."
Jobs started working for gaming company Atari as a technician in 1974, and with his friend, Steve Wozniak's help started Apple in 1976. Started off with a computer company that'll give a personal computing experience to the masses. Jobs' educational background in English Literature isn't an ideal qualification for someone who became one of the most prominent names in electronics.
Despite dropping out of college early, Jobs was present on the campus for over a year, auditing creative courses, including classes on Shakespeare, dance, and calligraphy, which helped him bring the artistic view and creativity into computers through the Mac and later through the iPhone.
"If I had never dropped in on that single calligraphy course in college, the Mac would have never had multiple typefaces or proportionally spaced fonts," Jobs had said on the importance of his creative course.