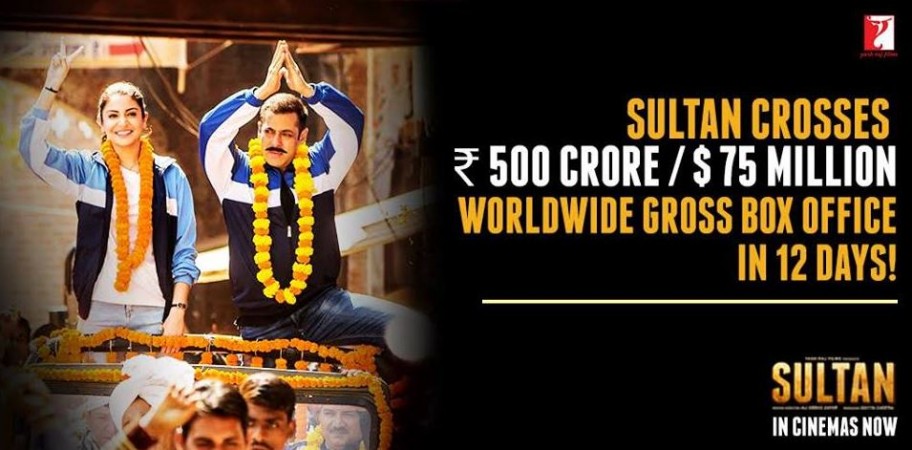 Salman Khan's "Sultan" is unstoppable at the worldwide box office. The box office collection of "Sultan" was expected to slow down after the release of "Kabali," but the film continued to rake in money, taking its worldwide total to Rs. 550 crore.
The Salman-Anushka completed 20 days of theatrical run and has managed to put up a good figure at the worldwide box office. The 20-day worldwide box office collection of "Sultan," which is Rs. 553.01 crore, is the fourth highest globally and soon it will take the third spot. The top three grossers include Aamir Khan's "PK" with Rs. 792 crore gross income, Salman's "Bajrangi Bhaijaan" with Rs. 626 crore and "Baahubali: The Beginning" with Rs. 586.45 crore.
Directed by Ali Abbas Zafar, "Sultan" minted Rs. 401.46 crore gross at the domestic box office and over Rs. 151.92 crore gross at the overseas box office to take its total to Rs. 553.01 crore. Not only Rs. 550 crore mark, the film also crossed two benchmarks at the box office with its 20-day income – first it took its domestic gross income to Rs. 400 crore mark and second it crossed Rs. 150 crore mark overseas.
"#Sultan crosses ₹ 150 cr in international markets... OVERSEAS - after Weekend 3: $ 22.57 million [₹ 151.92 cr]... FANTASTIC!" trade analyst Taran Adarsh tweeted the overseas figure, adding: "#Sultan - OVERSEAS [key markets] - after Weekend 3: USA-CANADA: $ 5.902 mn UAE-GCC: $ 8.135 mn UK-IRELAND: $ 2.168 mn PAKISTAN: $ 2.94 mn."
As reported earlier, the film is now inching towards the Rs. 586.45 crore mark, which was set by last year's release "Baahubali." The film needs Rs. 33.44 crore gross income to beat the record and going by its current pace, "Sultan" will push past the record by the end of its third-week run.
Meanwhile, look at the worldwide breakup of the film, as provided by Bollywood Hungama.
| | |
| --- | --- |
| India | Collection in Rs. crore |
| Wednesday (Day 1) | 36.54 |
| Thursday (Day 2) | 37.32 |
| Friday (Day 3) | 31.67 |
| Saturday (Day 4) | 36.62 |
| Sunday (Day 5) | 38.21 |
| Monday (Day 6) | 15.54 |
| Tuesday (Day 7) | 12.92 |
| Wednesday (Day 8) | 10.82 |
| Thursday (Day 9) | 9.52 |
| Friday (Day 10) | 7.43 |
| Saturday (Day 11) | 11.46 |
| Sunday (Day 12) | 15.18 |
| Monday (Day 13) | 4.08 |
| Tuesday (Day 14) | 3.72 |
| Wednesday (Day 15) | 3.42 |
| Thursday (Day 16) | 3.51 |
| Friday (Day 17) | 2.14 |
| Saturday (Day 18) | 3.81 |
| Sunday (Day 19) | 5.14 |
| Nett income | 289.05 |
| Gross income | 401.46 |
| US-Canada | 39.69 |
| UK-Ireland | 14.64 |
| UAE-GCC | 54.83 |
| Australia | 6.65 |
| New Zealand | 2.93 |
| Malaysia | 1.09 |
| Pakistan | 19.81 |
| Germany | 0.33 |
| Rest of the World | 11.58 |
| Total Gross income | 553.01 |