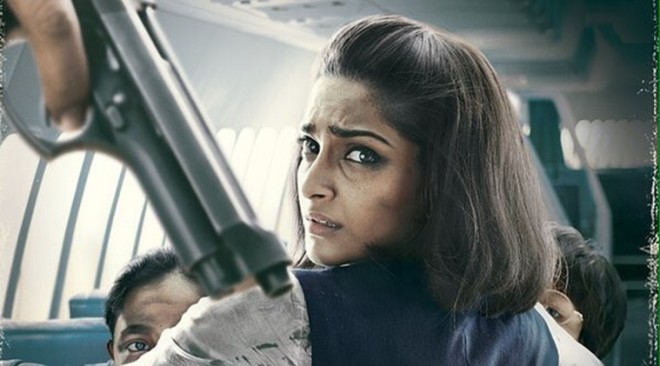 Sonam Kapoor's "Neerja" and Fawad Khan, Sidharth Malhotra and Alia Bhatt's "Kapoor and Sons" continue to spell magic at the worldwide box office. Both the films have seen a phenomenal box office run worldwide.
Neerja
The Sonam-starrer "Neerja" is still running in theatres, despite several new releases. The film completed five weeks run and has successfully entered its sixth week at the worldwide box office. That is not all; the film continues to drive in profit for the makers.
In India, the film has earned approximately Rs 75 crore net income in five weeks, while from the overseas box office it accumulated $4.1 million (Rs 27.40 crore). The worldwide total over five weeks stands at Rs 102 crore.
"#Neerja is a SOLID HIT Overseas. Total so far: $ 4.1 million [₹ 27.40 cr]. Still running in US, Middle East and other markets," trade analyst Taran Adarsh tweeted, adding: "#Neerja [Week 5] Fri 24 lacs, Sat 31 lacs, Sun 54 lacs, Mon 21 lacs, Tue 19 lacs, Wed 18 lacs, Thu 17 lacs. Total: ₹ 74.91 cr. India biz."
The film will continue to add more number to its box office collection, as it is still running in India and theatres across the US, UAE-GCC and other markets.
Kapoor and Sons
The Fawad, Sidharth and Alia-starrer has maintained a strong hold at the box office worldwide. "Kapoor and Sons" has crossed Rs 50 crore mark in India with its net income (Rs 73.33 crore gross) in just eight days, and by its second weekend the film will cross Rs 60 crore mark. In international market, the film has done phenomenal business and recorded the highest first-week box office collection of 2016.
"#KapoorAndSons is HIGHEST Week 1 grosser Overseas in 2016 *so far*. Overtakes #Airlift Week 1: $ 3.9 mn. Collects $ 4.2 mn [₹ 28.07 cr]. FAB," box office analyst Adarsh tweeted, adding: "#KapoorAndSons crosses ₹ 50 cr. [Week 2] Fri 4.40 cr. Total: ₹ 51.33 cr. India biz. EXCELLENT HOLD, despite new releases, cricket and exams."
Now, the gross worldwide box office collection of "Kapoor and Sons" stands at Rs 101.4 crore, which includes Rs 73.33 crore gross domestic and Rs 28.07 crore overseas collection. The worldwide box office collection has made "Kapoor and Sons" the third film of the year to earn Rs 100 crore in terms of gross income.
[1 lakh = 100,000 | 1 crore = 10 million | 100 crore = 1 billion]