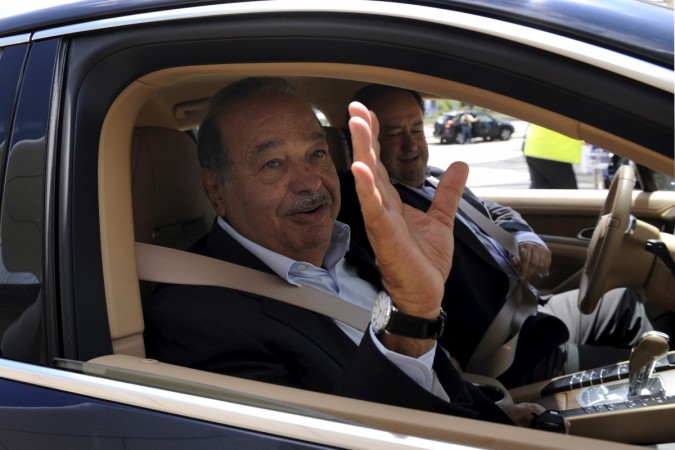 Carlos Slim, the world's second richest man after Microsoft's Bill Gates, is reportedly planning on entering the Indian telecom sector after his firm faced stiff competition in the home market in Mexico.
The 75-year-old owner of America Movil reportedly visited India two weeks ago to scout for partnerships with Indian telecom players.
It has been learnt that the chairman of America Movil, who is worth $77.1 billion (according to Forbes), has held talks with Videocon Group Chairman Venugopal Dhoot and senior executives of other leading telecom companies.
"This was the third meeting between Slim and Dhoot, who had previously met him in London after they were introduced by a common friend, who is an internationally renowned steel tycoon," a source told The Economic Times.
Known as the "Warren Buffett of Mexico", Slim seems to have "expressed optimism about growth opportunities presented by the Indian telecom market," said a source.
Slim's conglomerate Grupo Carso is present in a wide range of industries that include telecommunications, education, health care, industrial manufacturing, food and beverages, real estate, airlines, media, mining, oil, hospitality, entertainment, technology, retail, sports and financial services.
"We do not have any comments at this time on Mr Slim's visit to India," said America Movil's spokeswoman.
"Large international telcos looking to India for growth had evinced an interest to make strategic investments in Videocon Telecom and we are in discussions with some of them," said a senior executive of Videocon Group.
However, the executive declined to give any detail on Slim's meeting with the Videocon Group chairman.
The Mexican business magnate is also reported to have met senior officials of a Mumbai-based telecom company and Bharti Airtel, India's largest telecom operator.
"We strongly deny these speculations which are completely incorrect, baseless and without an iota of truth," said Airtel spokesperson rejecting speculations that Slim is likely to make investments in the company.
Dhoot had already informed that a Mexican company and a domestic telecom player had evinced interest to buy a 49 percent stake in the group's telecom division. However, he added that any deal would take place only after the government announces new rules on mergers and acquisitions (M&A), which are likely to happen by the end of June.
"The tenor of talks suggested Slim is scouting for a suitable Indian telecom partner in anticipation of business friendly rules, including those on M&A and on spectrum-sharing and trading," said a source.
America Movil, which accounts for 80 percent of landline market and 70 percent of mobile market in Mexico, has seen its margins declining due to fierce competition from rivals. The company is witnessing a drop in its subscriber base with revenues from wireless service declining in the first quarter this year.
"It would make sense for America Movil to explore an expansion into India, especially as it faces margin pressure in Mexico, where it reportedly cut prices recently to compete with aggressive rivals such as Grupo Televisa SAB and Telefonica SA," said an analyst at a European brokerage.