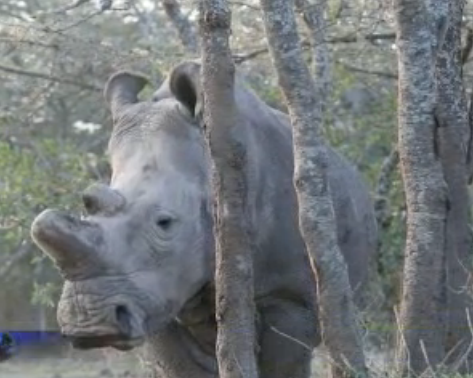 Sudan, a 40-year-old male white rhinoceros, is the last of its kind in the world and in order to protect it from poachers, a 24/7 security has been arranged for it in central Kenya.
Sudan spends his days with two other female rhinos, Najin and Fatu, in Ol Pejeta Conservancy wildlife sanctuary. Apart from them, two other female white rhinos are housed in zoos.
Meanwhile, the authorities have removed Sudan's horn, which has a huge market in Asia, as a measure to protect him from poachers.
"With the rising demand for rhino horn and ivory, we face many poaching attempts and while we manage to counter a large number of these, we often risk our lives in the line of duty," Simor Irungu, said in an interview with the UK's World of Animals magazine.
As part of security measures, the last rhinos are also fitted with radio transmitters. In order to avoid the extinction of the species, authorities are also thinking of artificial insemination.
"The only chance we're going to have full northern white offspring is artificial insemination. But so far, this method has proved to be very difficult in rhinos," Matthew Lewis, senior program officer for African species conservation at the WWF told National Geographic.
Watch the video of Sudan HERE
Check out the photos of the last male white rhino below:
World's last northern white rhino under round-the-clock armed guard in Kenya http://t.co/5XFGREobJe by @Simmoa pic.twitter.com/B5yyuTEprU

— Telegraph News (@TelegraphNews) April 13, 2015
Now sent another pic of what is said to be last Northern white male rhino on earth @OlPejeta pic.twitter.com/EZ9tt4OYft — Mark Austin (@markaustinitv) April 14, 2015
#World's Last Male #Rhino Is Under #Armed #Guard 24 Hours #wildlife http://t.co/7tmWTGSwrM http://t.co/6UP6Yru0Cj pic.twitter.com/RVYtzgOsXt

— Navitha Mathew (@navimathew) April 14, 2015
24/7 security: not a celeb but the last #rhino of his kind #shocking: http://t.co/h6lbyZOzoo pic.twitter.com/YnCI8Fz8dF

— Sheldrick Wildlife (@DSWT) April 12, 2015
Mad RT @JulianDutton1: Rangers guard the last male northern white rhino on earth. His species survived 50 Million yrs pic.twitter.com/YBOi8fELnt — Jme (@JmeBBK) April 12, 2015