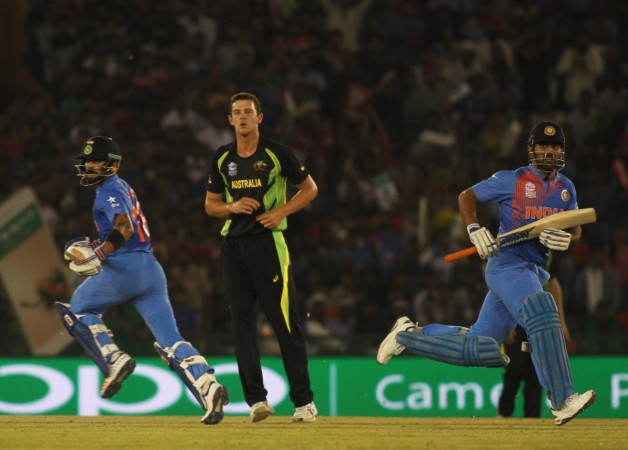 The man of the moment, Virat Kohli, heaped praise on India skipper MS Dhoni for supporting him in the best possible way to successfully chase down the target for India in their match Australia in Mohali Sunday. Kohli played one of the most sensational innings of his T20 career to inspire the Men in Blue to the semis of ICC World T20 2016.
The 27-year-old batsman delivered an out-of-the-world performance as he picked out the gaps in the field with precision with three overs to go and a big target to reach towards. The flicks and meticulously calculated shots from Kohli saw the ball reaching the ropes and over the ropes on plenty of occasions.
Kohli scored 82 off 51 balls (9x4, 2x6), turning on the style when India needed an improbable 39 runs from the last 18 deliveries.
"I have never played an innings like that where we needed 39 off three overs and I have been able to pull it off with MS Dhoni batting at the other end," Kohli told BCCI.tv. "I think what really helped was him running those twos.
"The opposition panicked a bit because of that. They were unsettled because they knew we could run the runs as well and get 12 off one over without taking a risk. I think that is when the bowlers started thinking too much."
Dhoni and Kohli forged an unbeaten 67-run partnership and that was key reason behind India getting the job done with five balls to spare. The India vice-captain gave credit to his skipper for keeping him calm when the pressure was on.
"Credit to MS Dhoni. He kept me calm and kept telling me: 'Pick your areas, these many runs are left in these many balls'. He didn't want me to get carried away or over excited. He just kept telling me what are the areas I could pick and that just gave me assurance," Kohli continued.
"If I was going to go towards covers, he would give me assurance again and I became confident. I think that is where communication and partnership helps. It was wonderful to pull the team out of that situation."