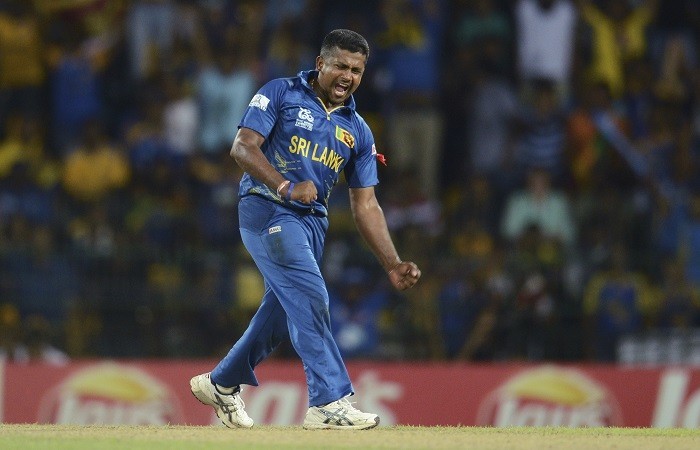 When it comes to big ICC tournaments, barring the final, Sri Lanka know how to win, even when their backs are firmly planted to the wall, with no signs of escape.
Looking set to go out of the World T20 2014 after getting bowled out for a no-way-this-will-be-enough 119 in 19.3 overs, courtesy a brilliant bowling performance from New Zealand, Sri Lanka found some island magic in the mould of Rangana Herath, who was unplayable, and then some, picking up a stunning five wickets for almost unbelievable figures of 3.3-2-3-5.
New Zealand slumped quicker than a stock market crash, under the spin barrage of Herath and Sachitra Senanayake, and chasing a mere 120, were bowled out for 60, to fall to a 59-run defeat.
The result would have been one they could have swallowed and moved on from, had there been a chance for redemption; but there is to be no redemption, it was a winner takes all clash, with Sri Lanka, courtesy the outstanding victory, through to the semifinals, where they will face either West Indies or Pakistan, while New Zealand will now book that flight back home, with that zombie-like what-on-earth-just-happened feeling no doubt set to stay with them for a while yet.
Calling the New Zealand innings a car crash would be a major understatement, because a car crash, compared to New Zealand's innings, is like a wonderful sunset on a secluded beach with your significant other.
The moment Martin Guptill ran himself out, running for a single without even bothering to look if his partner had responded, it was bye bye, thank you ma'am for New Zealand, who started the chase one man short after Corey Anderson had to go to the hospital after injuring his finger while attempting a catch in the 18th over of the first innings.
Brendon McCullum came in, played four dot deliveries off the first over of Herath, got frustrated, went for a big shot off the final delivery, and only managed in getting stumped.
If that over was bad from New Zealand's point of view, the second from Herath was worse, much worse. Ross Taylor, clueless on how to play Herath, survived a couple of lbw appeals, one that really should have been given out, but despite the close calls, the right-hander kept playing with his pad rather than his bat and a third appeal saw the inevitable finger raised.
James Neesham walked in and walked back, after his first ball snuck in through the gate and thudded into middle stump, which put New Zealand on 27 for four from six overs, essentially 27 for five, with Herath's figures after two stunning overs reading 2-2-0-3.
Herath, with no dew and enjoying the pleasures of a dry ball, made it four wickets in three overs, trapping Luke Ronchi in front of the wicket, with Sachitra Senanayake getting in on the act as well, picking up Nathan McCullum to put the Kiwis on a dead-and-almost-buried 33 for six.
Kyle Mills stuck around for a while, as Kane Williamson, the only Kiwi batsman that actually looked like a batsman, looked to get New Zealand out of jail, the middle of a thick forest, and a barren desert, all at one go.
Senanayake (3-0-3-2) picked up his second wicket, sending Mills after a nine-ball, four-over stay, to consign New Zealand to 51 for seven
Lasith Malinga, enjoying the game to the hilt as stand-in captain, even if Kumar Sangakkara and Mahela Jayawardene were actually doing the captaincy, only bowled two overs, not that he was needed, with the spinner running amok. The game pretty much ended when Williamson got run out after a wonderful 43-ball 42 (6x4), as Herath, incredibly playing his first match of the tournament, fittingly picked up the final wicket of the match, dismissing Trent Boult.
Earlier, Sri Lanka were befuddled not by spin, not that that was ever a worry with New Zealand, but by some brilliant bowling from the pacers, who stuck to their plans of bowling just short of a good length to great effect.
The Lankans actually got off to a roaring start in the first over, with Kusal Perera hitting a four and a six off Kyle Mills. The left-hander was striking the ball well and looked determined to give his side a strong opening in the first six overs.
However, Perera fell in the second over after an 8-ball 16, off an iffy decision with Aleem Dar raising his finger for a catch by wicketkeeper Luke Ronchi down the leg side.
If Trent Boult was a little lucky to get that wicket, there was no luck involved in his next two - two important ones of Tillakaratne Dilshan and Kumar Sangakkara.
The back of a length ploy worked wonders, as Dilshan, a little excited by a successful Dilscoop, got a little too carried away and got himself into an absolute muddle trying another one with Ronchi completing a simple catch off Boult.
Sangakkara (4, 11b, 1x4) came in and got a little stuck, playing out nine dot balls, and when he tried to hit himself out of the rut, all he managed to do was gift a catch to Corey Anderson, with Boult (4-0-20-3) picking up his third wicket in as many overs to put Sri Lanka on 35 for three.
Mahela Jayawardene and Lahiru Thirimanne, in for suspended skipper Dinesh Chandimal, looked to settle things down, putting on 30 together, with the latter, in particular, looking decent at the crease.
However, the moment anyone attempted a big shot, the only result that seemed to come was a wicket, with Thirimanne (20, 18b, 3x4), attempting a six over cover, holing out to Martin Guptill off James Neesham.
Angelo Mathews came and went, and Jayawardene (25, 32b, 2x4), just when he was looking to accelerate the innings, also was sent packing, by Nathan McCullum.
Thisara Perera (16, 13b, 3x4) and Sachitra Senanayake came in a struck a few boundaries to take Sri Lanka well over the 100-mark, before the efficient New Zealand finished the innings off in the final over for a sub-par target, but a target which proved to be well beyond the can't-play-the-spinners Kiwis.