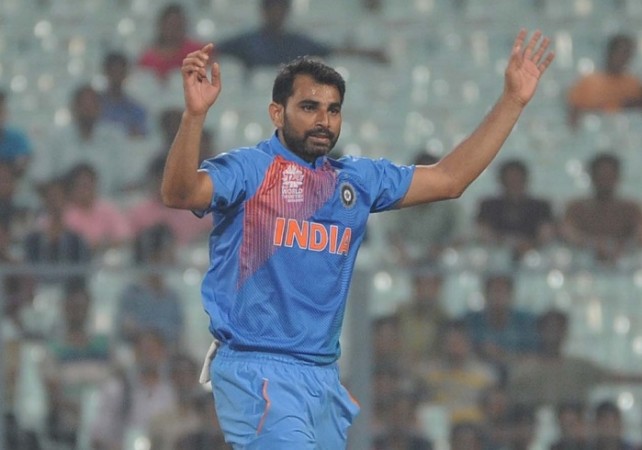 Mohammad Shami was India's best bowler during the ICC 2015 Cricket World Cup in Australia and New Zealand, but has failed to represent the country since then after he underwent knee operation last year. Despite being chosen for the Australia limited-overs series earlier this year, he had to pull out of the squad due to a hamstring injury.
Shami could not recover in time and also missed the Asia Cup, but he was picked for the ICC World T20 2016. Dhoni has been open about his desire to have the fast bowler in the squad, as Shami can prove to be a matchwinner on his day.
Hence the India-West Indies ICC World T20 2016 warmup game on Thursday was an important one for Shami, as it gave him a chance to prove his fitness ahead of the India-New Zealand World T20 opener, Tuesday.
All eyes were on Shami during the warmup fixture, and he did not disappoint, picking up two wickets, which should provide a major boost to India ahead of the World T20. Shami showed his class, and what he can be truly capable of in the World T20 during his four-over spell against the West Indies.
The speedster bowled well against top batsmen such as Chris Gayle and Marlon Samuels. His bowling figures, which read 4-0-30-2 should give him immense confidence for the mega event that starts Tuesday.
Shami showed no major signs of weakness against West Indies, who were defeated by MS Dhoni's team. The fast bowler gave his heart out in training, and has been putting in that extra mile to get his rhythm right as well. He was in full flow against West Indies, bowling in the right areas as well as delivering those famous yorkers, which Dhoni always praises.
However, it remains to be seen if Shami will be among the playing XI for the opening game against New Zealand.
Bowlers such as Ashish Nehra and Jasprit Bumrah have done extremely well with the ball and it will be unfair to drop either of the two to make place for Shami. India have a problem of plenty with such quality bowlers to pick from.
The Men in Blue have primarily played with two seamers in Indian conditions, where spinners have the edge. But they can change that plan if they are keen to play with three quality fast bowlers - Nehra, Bumrah and Shami. For this to happen, India have to drop either of the all-rounders, Hardik Pandya or Ravindra Jadeja from the starting eleven. It is a risk, which, if taken, could go either way in terms of end result.
One hopes Dhoni, who is known to take wise decisions, makes the right one when the main round of the WT20 starts next week.