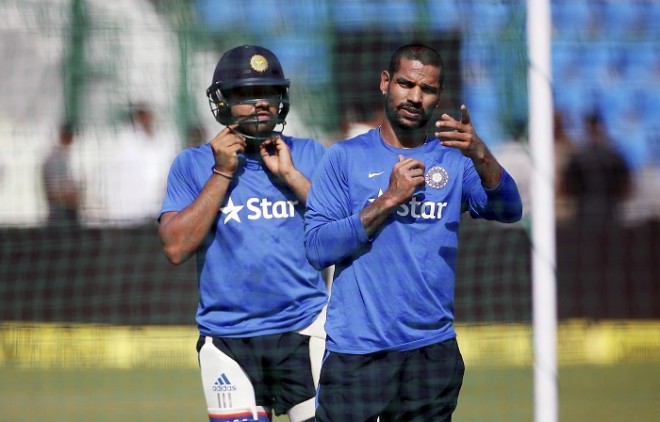 India's opening duo Rohit Sharma and Shikhar Dhawan have not been able to bring in their form to the ICC World T20 2016. If India wants to make it to the semi-finals of the tournament, then Dhawan and Sharma will need to provide India with good starts at the top of the batting order in the remaining two matches against Bangladesh and Australia.
Legendary Sri Lankan batsman Kumar Sangakkara is also of the same opinion and he said they should start scoring and take some load off Virat Kohli's back.
"Rohit and Shikhar have not fired but then that's also a warning to sides because batsmen of their quality will fire sooner than later and this is the ideal time for them to step up and take the burden off Virat Kohli's shoulder," Sangakkara told NDTV news channel.
Sharma has scored just 16 runs in his last three T20 matches. Dhawan, on the other hand, played brilliant innings in the final of the Asia Cup T20 2016. But after that he has not been able to make an impact at the top of the order.
If Sharma and Dhawan click at the top of the order, they can create a lot of problems for the bowlers in this tournament, considering the pitches in Bengaluru and Mohali are good batting wickets.
Sangakkara also expects India v Bangladesh game to be a high scoring one and Dhawan and Sharma should capitalise on this situation.
The left-handed batsman was disappointed with the wickets of Nagpur and Kolkata. He is of the opinion that such wickets are not good for T20 wicket and ICC should address this issues.
"Extreme pitches in Nagpur and Kolkata raise a few questions that needs to be answered by the ICC. In a tournament like this, you really don't want a pitch that will favour one side over the other," Sangakkara added.
The veteran former Sri Lankan batsman also said that India should not take Bangladesh lightly as they have caused a number of upsets in recent times.