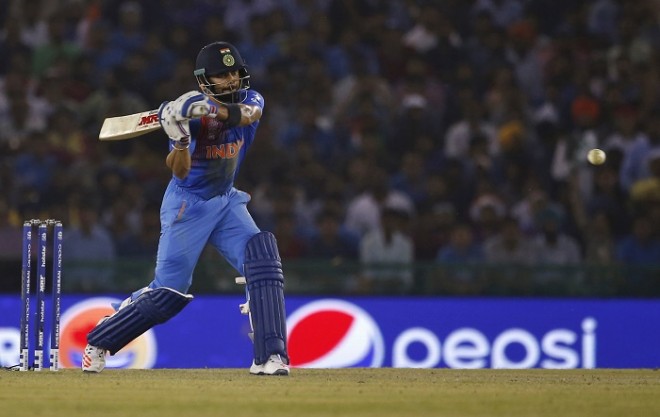 Virat Kohli showed the exit door to Australia, almost single-handedly, in their final game of the Super 10 stage of the ICC World T20 2016. Kohli, currently the top-ranked batsman, according to the latest ICC T20 rankings, is in the form of his life.
Chris Gayle is well aware of the threat posed by Kohli, and the left-hander hopes his Royal Challengers Bangalore skipper will not to fire when India play the West Indies at the Wankhede Stadium in the second semifinal of the ICC World T20 2016, Thursday.
When asked about the threat posed by Kohli, Gayle, in his inimitable style, joined his hands, looked up to the sky and said: "Please don't fire, Virat."
"I have said it over the years he is going to be the world beater he is today. Hopefully tomorrow he won't get any runs. He has been fantastic right through the year. He has been in a great form. He can still get runs but in a losing cause. We'll be happy with that as well," Gayle was quoted as saying by TOI.
Apart from Kohli, India have a number of matchwinners and the West Indies cannot just focus on one batsman.
"He (Kohli) is in good form and it is a good wicket as well so anything is possible. We have to play the situation accordingly, play within our strength and actually take it from there," Gayle added.
"We are not going to focus on only Virat, there are so many matchwinners there and anyone of them can actually fire on any particular day," he said.
Gayle also said that India have a very strong batting lineup. It will be a difficult game against the favourites, but he is confident that if the West Indies cricketers play up to their potential they can cause an upset.
"It is a huge team, India, their batting lineup is superb, but Virat is the man that stands out at this point in time," Gayle added.
"It is very difficult to pinpoint one particular player in the Indian team. It is a very good all-round team, good fielding team as well. That's why India are the favourites. It is always going to be difficult to beat them here, but like I said, for West Indies the upset is ready."
This match has been billed up as Kohli vs Gayle, but the West Indies opener does not think it is just about the two RCB batsmen. "Like I said they have so many matchwinners, like our team as well, we have a lot of matchwinners too, it is not always going to be about me," Gayle said.