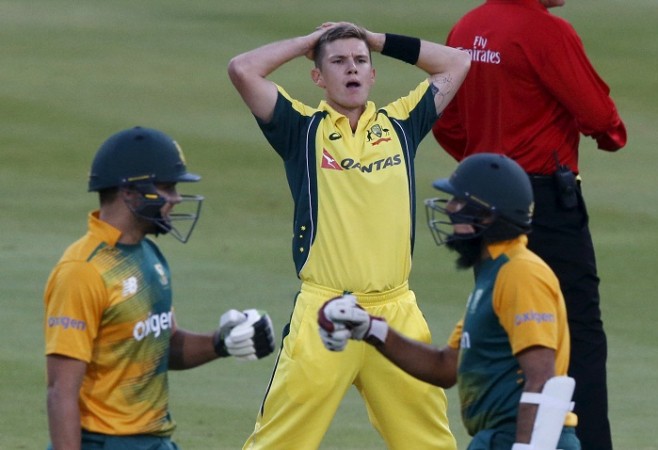 India and Pakistan batsmen are known to be masters of playing the art of spin bowling, and Australian leg spinner Adam Zampa is looking forward to bowling to batsmen from both nations. Australia face Pakistan and India March 25 and 27, respectively.
Zampa should not be short of confidence after an impressive performance against Bangladesh, taking three wickets to help his team emerge victorious.
Zampa is one such bowler who has great variety in his armoury. He bowls a tight length, and buys his wickets sometimes as well. Though he may be relatively new in the international circuit, whatever one has seen of late, he may play an important role for Australia in the coming years as well.
But he might have never bowled to batsmen in the calibre of Virat Kohli, Rohit Sharma, Shoaib Malik and other such batsmen, who read spinners brilliantly. These batsmen do not allow spinners to get on top of them, which will be a huge challenge for Zampa.
Though there might be no pressure on Zampa to perform, he might be pressurised by India and Pakistan batsmen, who could attack the spinner, and if Zampa crumbles under such situations, it will be a long and tough night for the leggie.
"It's going to be a new challenge playing Pakistan and India, they're great players of spin so it's something that I'm really looking forward to. It's been made quite clear that there's been pressure on me to perform over here but I'm very excited about playing those types of players," Australian Associated Press quoted Zampa as saying.
With Steven Smith as his captain, the leggie considers him to be of great help during matches.
"I work really well with Steven. He's been really good for my game since I was a young guy. To have him standing there at cover all the time is really nice and I think we work together quite well," Zampa said.
"I haven't changed anything at all. My plans are pretty simple and to have him there in the back of my ear to reassure that is nice."