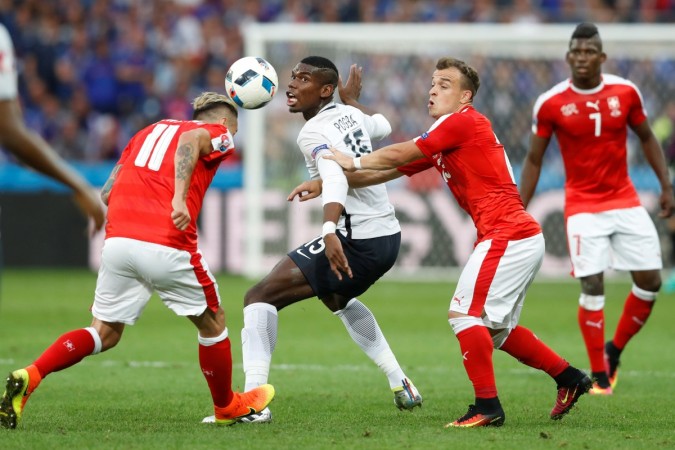 A possible world record move to Real Madrid for Juventus midfielder Paul Pogba could just be on the cards as the Frenchman's agent Mino Raiola has stated that his client has opened talks with Los Blancos. It was reported last week that only shelling out an astronomical amount of money would pave way for Pogba to don the Real Madrid jersey.
Juventus reportedly have asked £110 million (€140 million) from the La Liga club for the player. On top of that, Pogba too is asking for around £430,000-a-week contract to leave Juventus, which is equivalent to £23 million a season.
Raiola, too, has reportedly demanded £19 million (€25 million) to push the transfer.
British publication Independent, meanwhile, has reported on Monday that despite interests from Manchester United, it is more likely that Pogba would prefer a move to Real Madrid as according to Raiola, the France international is keen on winning the Ballon D'Or as a Los Blancos player and he also admires compatriot Zinedine Zidane, who is currently the manager of the Spanish giants.
"We are talking [with Real] but nothing is decided. [Madrid coach] Zinedine Zidane's wish is important. The club's wish is important," the newspaper quoted Raiola as saying to Marca. "We are in the initial phase. It's not a negotiation. Both sides know what it wants and we shall see if we complete a deal or it ends in divorce.
"Paul dreams of winning the Ballon D'Or. Real Madrid is a fantastic club to achieve that. He admires Zidane. He has always told me that. This is going to be very important in his decision."
Raiola also added that his client is not interested in becoming the most expensive player of the world. It is but only a good project that intrigues Pogba. "However, he [Pogba] needs to choose a project, not a coach, as coaches come and go. Pogba's interest is not in being the most expensive signing and neither is it mine," continued Raiola.
"The aim is for him to join the best sporting project and win as many titles as possible. We are talking with three teams and Paul likes the sporting projects of some of those," the football agent added.
Pogba's contract with Juventus runs until the summer of 2019.