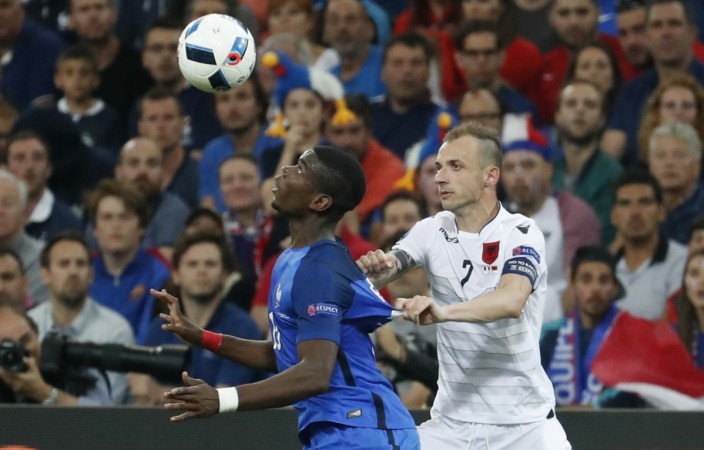 Transfer records will shatter and jaws will drop if Real Madrid successfully manage to rope in French midfielder Paul Pogba from Juventus in the transfer window. The asking price from the Italian club for the player is, take a breath, £110 million (€140 million), reports Catalan daily Sport.
That's not all. The player is also asking for around £430,000-a-week contract to leave Juventus, which is equivalent to £23 million a season. In all probability, if Real Madrid manage to get their hands on Pogba and snap him up on a five-year-deal, which is being reported, the total amount over the course of five seasons becomes £118 million.
The player's agent Mino Raiola also, meanwhile, wants to pocket £19 million (€25 million) to push the transfer and start negotiations.
Pogba's contract with Juventus runs until the summer of 2019.
The Spanish publication has mentioned that Real Madrid President Florentino Perez is in utter shock after getting to know the demands of the Serie A champions and the player. If the deal manages to go through somehow, not only will the transfer of Pogba, 23, get into record books but the player will also become the richest ever player to play for Los Blancos.
Just for the record, Gareth Bale earns €11 million a season at the Santiago Bernabeu at present, while Cristiano Ronaldo pockets €18 million a season.
Whether Perez and Real Madrid go ahead with launching a bid for the player now, remains to be seen. Manchester United also, meanwhile, have their eyes on their former youth graduate but it is highly unlikely that the Red Devils will be keen on dishing the world record transfer fee.
Pogba, as for now, has impressed so far in the Euro 2016 for Les Blues, who successfully progressed to the quarterfinals of the competition following their second consecutive victory on Wednesday.