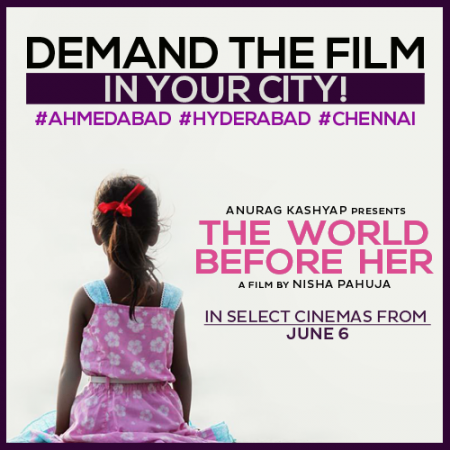 "The World Before Her" is a documentary film written and directed by Nisha Pahuja. The film, which is presented by Anurag Kashyap, shows how women in India can adapt to different environments.
The film profiles two young women participating in two completely different environments -Ruhi Singh, who wants to become Miss India, and Prachi Trivedi, who joins Durga Vahini camps.
The film has won accolades from critics for showing two environments in a non-biased tone.
Check out the first reactions of the industry people who watched the movie in New Delhi on Thursday.
Here are critic's reviews:
Rajeev Masand of IBNLive said: "The strength in Pahuja's documentary lies in its non-judgmental tone, even in moments like when Prachi's father recounts the time he branded her with a hot iron rod as punishment for lying.
"'The World Before Her' is a powerful documentary and I strongly recommend that you see it - this is the kind of cinema that will leave you shaken and stirred."
Nikhil Arora of Desimartini said: "The World Before Her is a shocking documentary. The shocks don't come out of graphic violence or scenes of poverty. They are mainly borne out of watching how people think. It's a war of ideologies. When you think of it, every war ever fought is when two ideologies collide. Which side are you on? That's the question asked by Nisha Pahuja. Although, not so simplistically.
"The World Before Her is one of those documentaries that serve you just desserts. It doesn't hop about and provide information about things you didn't know. It talks about things you knew but probably never acknowledged them."
Shubhra Gupta of The Indian Express said: "In Nisha Pahuja's well-crafted, thought-provoking documentary, we switch back and forth between the two girls and their mentors and families, as they are shown going about their business : one going through the grind of treadmills and botox shots and style coaches, the other training young girls like herself in a Durga Vahini camp, where they learn the use of high-pitched rhetoric against other religions as well as long-barreled guns."
Deepanjana Pal of Firstpost said: "A militant Hindu nationalist camp for girls, or a beauty contest — if you had to take a wild guess, which would you say produces the more independent woman? When these two are the subjects of a documentary by a Canadian filmmaker, most people would expect the beauty contest will have the filmmaker's sympathy. After all, beauty contests — superficial as they might be — are more liberal than Hindu nationalist ideology, right? The answer isn't quite so straightforward or simple in Nisha Pahuja's documentary The World Before Her.
"There's an enormous amount of homework that has gone into this documentary, which is mostly riveting.
"Pahuja halfheartedly tries for a political angle at certain points in The World Before Her, but the film's strength isn't in the statement it makes about Hindu nationalism or the role that camps like Durga Vahini play when there's communal violence. The power of The World Before Her is its sensitive alertness to how these two very different platforms for Indian women both appear to be rotten planks."