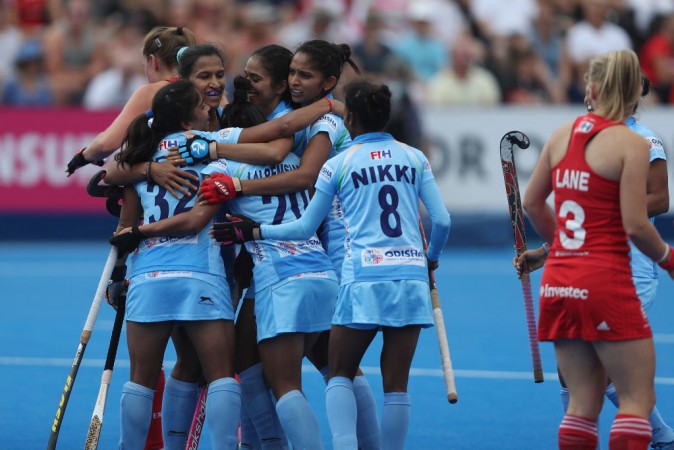 India put up a stellar display to outclass Italy at the Lee Valley Hockey and Tennis Centre in London as they shunted aside their opponents 3-0. With this win, they have now reached the quarter-finals of the ongoing Women's Hockey World Cup 2018.
The defending Asian champions were rock-solid and were in control of the proceedings from the word go as goals from Lalremsiami, Neha Goyal and Vandana Katariya shut the door on the Italians. They will now face Ireland in the quarter-finals.
Italy were hammered by the Netherlands in the previous match as they conceded 12 goals, but the Indian eves were cautious in their approach. The match did not get off to a rapid start, but there were opportunities which opened up for the Indian team as a result of good counter-attacking play.
Indian captain Rani Rampal created a golden opportunity in the 17th minute of the game, as she passed the ball inside while taking a run by the left baseline. The ball was eventually cleared by Italian goalkeeper Martina Chirico.
India were at it again in the 19th minute as Udita found herself in the striking circle, and bereft of any danger from the Italian defenders she took the stroke but the goalie deflected the danger.
Tepid start to the match
The majority of the match was played in the midfield and after India's not so rapid start in the first quarter they got the ball rolling with more intent and as a result of which kept cracking the Italian defence.
At half-time, India just about got the job done and even though the game was not very aesthetic, they were good in defence which made sure that both teams were separated by a goal.
After Italy got the ball rolling in the third quarter, India reacted quickly and wrestled the momentum and the flair was back in the game. They carried this momentum into the final quarter and in the 55th minute, a penalty corner came about which was converted into a goal.
Time to celebrate but we're focused on the quarter-final
"We came here to win. We all knew it was the most important game to reach quarters. It's now time to celebrate but we are also focused on the next match. I would like to thank the crowd who came to support India. Our team did well but Italy fought well too," Rani said after the match.
India will now take on Ireland, who topped Pool B and according to Rani, the match should be an exciting one.