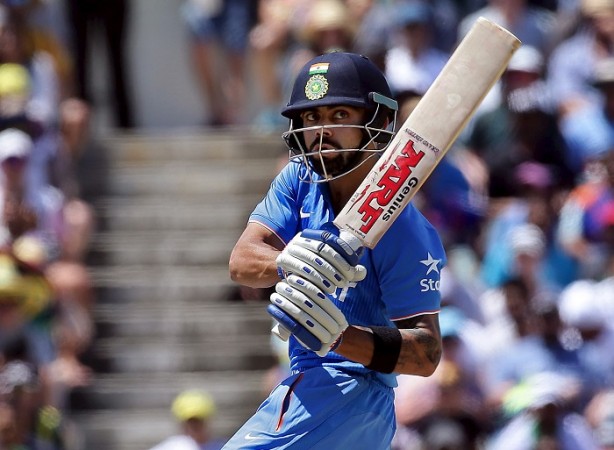 Indian star cricketer Virat Kohli wished Happy Women's Day 2016 in a rather unique fashion Tuesday as he posted a picture of himself apologising for the crimes against them.
Crimes against women have been a jaundice that has troubled the Indian society for long and over the years, we have only witnessed the fairer sex being at the receiving end of manipulation and brutality from all the anti-social elements of society. Rapes, molestation and eve-teasing have seen a significant rise in the recent years and happy days for the women-folk may not be in the offing.
Waking up to the news of a 15-year-old girl allegedly raped and being set on fire near New Delhi on Tuesday is another example of this never-ending epidemic that has grasped society and made every men being tagged as criminals.
Virat Kohli is someone who has caught the attention of millions of Indians over the years and his growing fan-base is a proof of how popular he is at the moment. We have come a long way since Kohli marked his ODI debut in 2008. Bossing T20 tournaments for Team India in the most elegant fashion possible and also being awarded the Test cricket team captaincy, Kohli is one of the most popular stars of India.
His popularity is almost equal to the likes of Bollywood actor Shah Rukh Khan and multi-talented artist Farhan Akhtar, who also took to twitter to wish Happy Women's Day 2016. However, it was Kohli's uniqueness in portraying a bitter truth of today's times that caught everyone's attention.
"Dear girls,
Sorry for the jerks.
The whistlers.
The cat-callers.
The blank-callers.
The won't-stop-starers.
The "frandship" stalkers.
The "accidental" brushers.
The glass-ceiling makers.
Please don't let them
ruin it for the rest of us.
Happy Women's Day (sic)," Kohli posted on facebook.
Men and women across the social media reacted moments after Kohli, 27, posted the message:
Virat's admirer tweeted: "nothing to say....ur words said it all....respect u more nd more....thank u for being a part of my life (sic)"
Prince Sharma wrote: "Every thing u done just like hero & u r the real hero India & about women respect that's fab... All the bst 4 WC ... (sic)"
Vishi Thakur wrote: "dear virat thank u for giving this type of respect to women's. .. you always live in our heart's. luv uhhh and best wishes for your team (sic)"
RV Rajput commented: "It feels really great to hear such beautiful words from our national hero...This so sweet virat from your point of view you champ..happy women day to you also... (sic)"
Anjli Mishra commented: "thanku so much virat sir for giving respect to all woman's thanku once again and all the best for world cup (sic)"