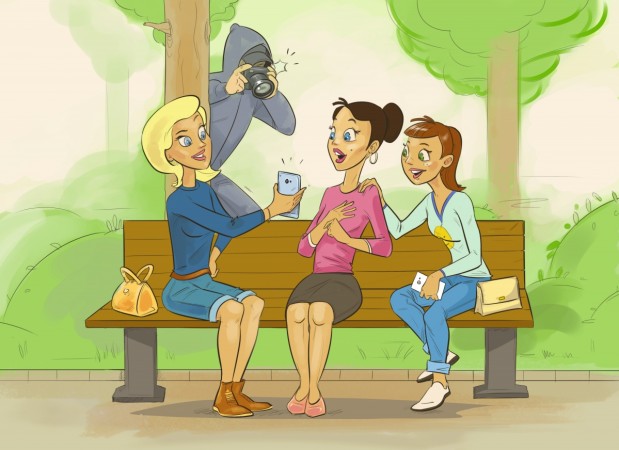 A recent survey by security major Kaspersky Lab and market research company B2B International claimed while 53 percent of women surveyed said they valued their photos and videos on phones more than the devices themselves, many failed to secure their devices at the most elementary levels.
On the same parameter, the survey pegged the figure at 39 percent for men.
An interesting statistic from the survey was while 48 percent women were comfortable sharing their photos and 40 percent were open to sharing photos of people they know, only 29 percent said they were concerned over the security implications, lest the data fall be misused by cybercriminals.
"Yes, the photos and videos I have on my phone are much more important to me than my phone itself," Priyanka Ganguly, a student of JD Birla College in Kolkata told International Business Times India.
"Women worry more about the emotional impact on others should their devices be stolen or hacked," David Emm, principal security researcher at Kaspersky Lab, said in a statement.
According to the study, a third of the women surveyed worried images and other information stolen by cybercriminals could be shared inappropriately or without their consent, causing embarrassment and hurt. Over 30 percent felt such an event was capable of damaging relationships.
However, while more than a quarter of the men surveyed said they could be target of a cyberattack, less than a fifth of the women believed they were potential targets. At least 14 percent of the women admitted to not using any form of security on their phones.
More than a quarter of the women surveyed said they do not back up their data, which increases the risk of losing all photos, videos and files if their device is stolen or damaged. On the other hand, 80 percent of the male respondents claimed they back up their devices.
"It is not surprising that women use and value the information stored on connected devices differently from men. Celebrities aren't the only ones to worry about what might happen if their private images were to be publically exposed," Emm said.
"I know a number of times apps ask for access to a lot of data. I generally avoid using such apps. I am also always on the lookout for fake apps," Alankrita Chatterjee, a quality assurance tester at FreeBalance Software Solutions India told IBTimes India.
"Cybercriminals are constantly looking for new ways to manipulate victims online. One of your strongest lines of defence against having your personal data and your money fall into the hands of a cybercriminal is to remain aware and vigilant. With that being said, a current method of attack you need to know about is fake antivirus," Altaf Halde, managing director — South Asia at Kaspersky Lab, told IBTimes India.