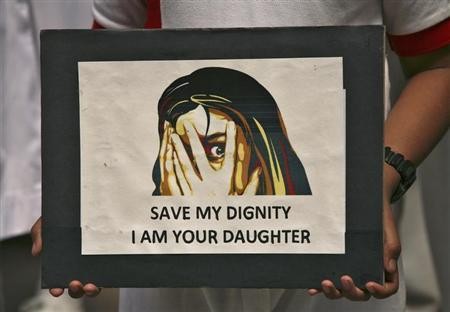 The Jammu & Kashmir police have arrested three of the five people accused of stripping a woman naked in public, filming the entire incident on mobile phone camera and later circulating it on WhatsApp in Jaganoo area of Udhampur district.
"A woman was stripped in full public view by five persons in Jaganoo area of Udhampur. The accused caught the incident on mobile phone camera... it has gone viral on Whatsapp," PTI quoted Udhampur district commissioner Shahid Iqbal Chaudhary as saying.
A minor boy was among the three arrested accused, while two others, including an army jawan, were absconding. The police said that a manhunt was on for the other two accused. A case has been registered naming the five as accused.
"The video surfaced last night. We got the input that the incident has happened in Udhampur. Police started the investigation and it was confirmed that it in fact has happened in Udhampur. We swung into action and traced out the people. Three people, who were in the video, have been arrested. One of the accused is a minor," Chaudhary told Daily News & Analysis.
They were also trying to trace the woman who was assaulted.
"We are trying to locate the woman and try to find out what exactly had happened. We are on the job and we hope to locate the woman by this evening," Chaudhary said.
The woman was riding pillion on a motorcycle with a male companion when the five accused stopped them and started misbehaving with her. "When she resisted, the accused overpowered her and stripped her in full public view," the district commissioner said.
In the video that has gone viral on social networking sites, especially WhatsApp, the woman is heard pleading with the men, asking them to return her clothes. But the men are seen assaulting her and her male companion with a stick.