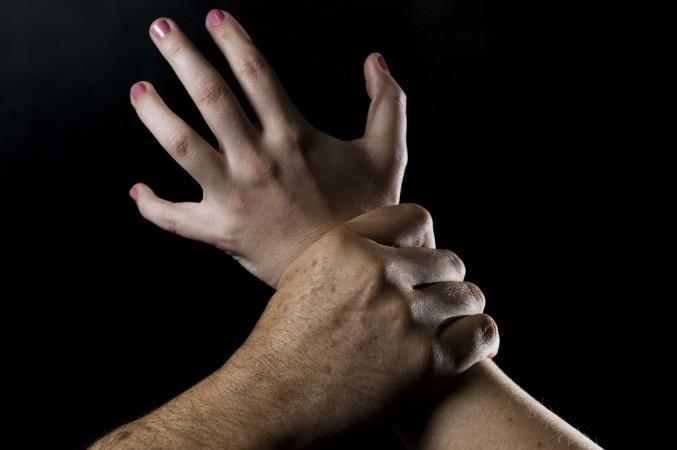 A horrific video has surfaced showing a man mercilessly beating up a woman on board a Mumbai local train Thursday, April 5.
The assault took place in the differently-abled compartment of a Thane-Chhatrapati Shivaji Terminus (CST) local train. The graphic video even shows a guard standing in the adjacent compartment separated by a grill.
#Mumbai: A woman molested by a man onboard a local train, plying from Thane to Chhatrapati Shivaji Terminus railway station, last night. Man arrested at Dadar railway station, case registered. pic.twitter.com/CqePInN2Q3

— ANI (@ANI) April 6, 2018
The assailant, identified as Rafique Shaikh, apparently tried to molest and strangle the woman on the moving train. He had allegedly borrowed a lot of money from her and then later started assaulting her, according to a Times of India report.
"A man was cruelly beating a woman in the disabled compartment which I boarded at Thane. When the train started from Kurla, a man started assaulting the woman. I being 90 percent disabled could not do much to help as there was a threat to my life if I intervened," Samir Zaveri, an eyewitness, was quoted as saying by Mumbai Mirror.
He added that the guard was just gesturing at the man to stop the assault. "I asked the security person, who was in the ladies compartment, to pull the emergency alarm but he did not respond."
These visuals expose the dark reality of women safety in Mumbai. A man can be seen repeatedly harassing, assaulting & molesting a woman. Since the coach was for the specially abled, none of the passengers could come to her rescue. Man was arrested at Dadar station & an FIR lodged pic.twitter.com/xOV2XirraE

— News18 (@CNNnews18) April 6, 2018
Soon after the incident came to light, the co-passengers alerted the Dadar GRP (Government Railway Police) about the assault. Shaikh was later arrested at the Dadar railway station. A case has been registered against him on charges of attempted murder and molestation, TOI reported.