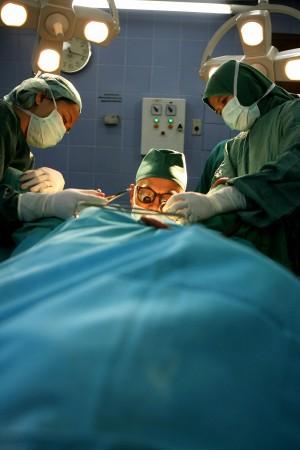 Magdalena Malec was suffering from sepsis
She contracted the disease when she was in the hospital
Doctors had to amputate almost all her limbs
She has decided to sue the hospital
Magdalena Malec, a 31-year-old mother from the United Kingdom, has lost one arm, all fingers on the other hand and both her legs after her hospital failed to recognize the symptoms of sepsis and treat it. Doctors in Luton and Dunstable University Hospital in Luton, Bedfordshire also had to carry out a kidney transplant to save her life.
Magdalena had a miscarriage when she was pregnant with her third child in December 2014. She had returned to the hospital to undergo an emergency surgery after which it was discovered that she had an ectopic pregnancy – where the fertilized egg gets implanted outside the uterus.
However, during recovery, she developed extensive limb ischemia — a condition where blood flow is restricted in certain parts of the body. The hospital staff could not recognize it as a symptom of sepsis. She later developed gangrene and her body tissue died.
The hospital authorities later apologized for the medical blunder, according to New York Post, and said the situation could have been avoided.
Magdalena, who has two daughters Paulina and Severin, aged 9 and 7 respectively, is suing the hospital.
"Now my life is not a life, it is vegetation – a fight for life. I was waiting for six months for the amputation of my limbs, with stinking and decaying legs and arms. Nothing will restore what I had. I will never paint my nails again, I will never make a ponytail for my daughter" she was quoted as saying by New York Post.
Relationship with her partner also tarnished due to her disabilities. "I do not trust doctors and I am very skeptical about all medical appointments and diagnoses," she added.
What causes sepsis?
Sepsis, which is a life-threatening complication of an infection, occurs when chemicals released by the body to fight infection into the bloodstream have inflammatory responses. It can lead to damaging of several organs throughout the body, according to mayoclinic.org.
While any type of infection can cause sepsis, the most common ones are pneumonia, abdominal infection, kidney infection and bloodstream infection (bacteremia).
Symptoms
Sepsis has three stages: sepsis, severe sepsis, and septic shock and they have different symptoms. For sepsis, the patient may show fever above 101ºF high and breathing rate and confirmed infection.
For severe sepsis and septic shock, one might show discoloration of skin and urine, low platelets, breathing trouble, unconsciousness and extreme weakness. Moreover, septic shock may show very low blood pressure, reported healthline.com
How to cure sepsis
If there are any symptoms of sepsis, immediately consult an expert. Doctors generally treat the disease with antibiotics via IV to fight infection and vasoactive medications to increase blood pressure. They also administer insulin to stabilize blood sugar and corticosteroids to reduce inflammation. Patients are likely to be given painkillers also, the website stated.