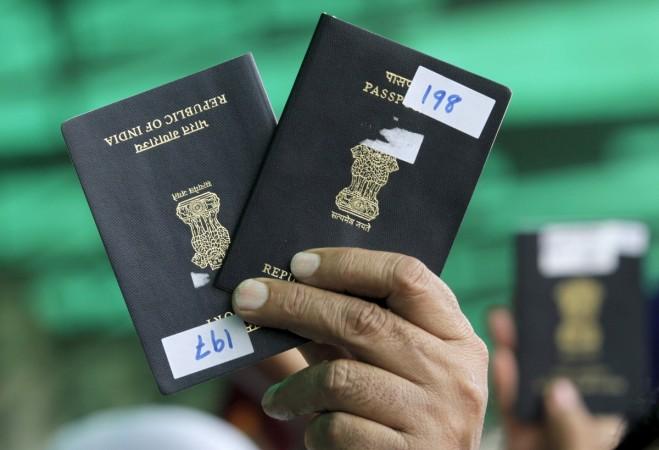 A married woman and a mother to her newborn, has taken to social media to share her account of her horrific experience with an obnoxious officer at the RPO (Regional Passport Office) Chandigarh who welcomed her with intrusive questions. She vented out her anger by tagging the official Twitter handles of Minister of External affairs Sushma Swaraj and Regional Passport Office, Chandigarh in her post.
It all started when a customer care executive of the passport office on Tuesday (October 10) provided her with wrong information about applying for her infant's passport in tatkaal even when her husband was not in the country.
In her long Twitter post, the woman described how she was made to travel with a premature baby from Ambala to Chandigarh passport office to get the passport done in normal category.
Though the woman thanked Regional Passport Office Sibash Kabiraj and Ambala's APO for being hepful to her in her post, she narrated how she had to face abhorrent behavior of an officer at RPO Chandigarh.
"Why haven't u added ur husbands's name to ur passport? Father needs to be present for u to get passport for ur infant? were a few annoying questions that were thrown at the woman by the officer in question when she approached him to correct the mistakes in the passport application.
International Business Times India tried contacting RPO Chandigarh to enquire about the incident via email and are awaiting for their response.
Read the woman's ordeal here:
"This is an online vent so stay clear if you are not in the mood. A few days back I mentioned that I am hoping to have a good experience at the passport office as I have to get one done for my newborn. Well the experience left me stunned for the most part and sad for the rest. It started off with wrong information provided by the customer care that I can apply for an infant's passport in tatkaal, even when my husband is not in the country - FALSE!

Took the date for tatkaal only to find out it can't be done. From Ambala passport office I was told to go to Chandigarh passport office because only they can approve this. Mind you all this traveling with a premature baby in toe. RPO (Regional Passport Office) was kind enough to grant the permission to get the passport done in Chandigarh itself in Normal category. I thanked him profusely and went downstairs and thats where everything went down hill.

They said 'madam tatkaal mein ho jaayega, aap fees pay kar dein' I asked again and again are you sure. They said yea and the file was created. Only to find out after ONE HOUR, that this cannot be done. From room no 101 to 105 to 207 I think I made at least 25 rounds. Finally they accepted that the lady filling the information was at fault please go to the Assistant Passport Officer, he will correct it.

Now this is where it gets interesting and frustrating. Loud, obnoxious and uncouth are few words to describe this man. The first question he asked was 'husband ka naam aapke paasport par kyu nahi hal' (why haven't you added you husband's name in your passport) I was stunned for good 20 seconds and replied we both decided not to add that. Here comes the reply, 'poori duniya ghoom Ii saath mein par naam nahi aad karwana' (you can roam around the entire world with him but won't add his name). I was this close to losing it, I neither replied nor condoned that statement.

Now he doesn't like me already because I am too unsanskaari for him. He mentions that I will see if this can be done because HIS EXACT WORDS 'Child trafficking ka case ho sakta hai na yeh to kyuki husband to aapke hai nahi, mujhe kya pata pati hai ke nahi, wohi father hai. pati dikha do abhi kar deta hu' (this could be the case of child trafficking because your husband is not here, how am I to believe that you have a husband and that he is the father of this child).

I was furious beyond words by now and a lot of shouting which made me break down in tears because I was so angry led to him finally accepting my file. My baby's aadhar card has his father's name (issued by Government of India), my baby's birth certificate has his father's name (issued by Municipality Karol Bagh, Delhi) but still I had no proof as to he is the father of my child to this uncultured man. Then why should be get these documents.

Also, I shudder to think what would be the plight to a single mother who has to apply for the passport for her kid. What all torture she might have to go through. How dare he ask me why haven't I added my husband's name or vice-verse. Why he think he can question someone's personal choice. Absolute travesty. All these articles about F-coupon and making things easy for minors and aged people is a sham.

P.S : credit where its due. Sibash Kabiraj - RPO Chandigarh was so helpful and cordial not only to me even others before and after me. APO - Ambala (didn't get his name) was extremely helpful to everyone stepping in his office including myself."