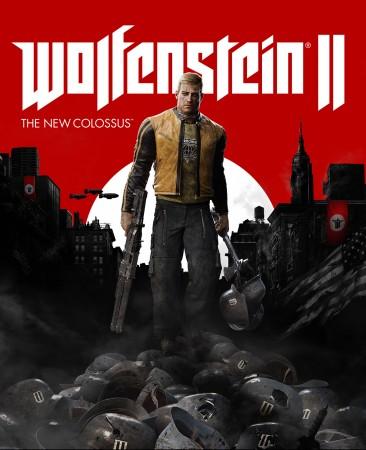 Wolfenstein 2: The New Colossus is the highly-anticipated sequel to the critically acclaimed first-person shooter game, Wolfenstein. Bethesda Softworks has recently launched the first gameplay reveal trailer for the upcoming instalment in the Wolfenstein series with loads of action depicting the protagonist's gunfight in Nazi-occupied America.
Ahead of Bethesda's E3 announcement for Wolfenstein 2, Amazon Germany had accidentally listed the game on its website, before taking it off abruptly. Nevertheless, some members of the renowned gaming forum NeoGAF have luckily got a screenshot of the listing and shared it with the gaming community.
One glance at the screenshot suggests that The New Colossus will be available as Collector's Edition on PC and will be releasing on October 27 this year. Bethesda has now confirmed the release date in its new gameplay reveal trailer for Wolfenstein 2 along with availability details. It will be out on multiple platforms including PS4, PS4 Pro, Xbox One, Xbox One X and Windows PC.
Interestingly, Bethesda has also teased some key plot details for the game wherein the game's protagonist will fight Nazis in iconic locations including small-town Roswell, New Mexico, the flooded streets of New Orleans and a post-nuclear Manhattan.
Check out the full game description and spoilers (below):
An exhilarating adventure brought to life by the industry-leading id Tech 6, Wolfenstein II sends players to Nazi-controlled America on a mission to recruit the boldest resistance leaders left. Fight the Nazis in iconic locations such as small-town Roswell, New Mexico, the flooded streets of New Orleans, and a post-nuclear Manhattan. Equip an arsenal of badass guns, and unleash new abilities to blast your way through legions of advanced Nazi soldiers, cyborgs, and über soldiers in this definitive first-person shooter.

America, 1961. Your assassination of Nazi General Deathshead was a short-lived victory. Despite the setback, the Nazis maintain their stranglehold on the world. You are BJ Blazkowicz, aka "Terror-Billy," member of the Resistance, scourge of the Nazi empire, and humanity's last hope for liberty. Only you have the guts, guns, and gumption to return stateside, kill every Nazi in sight, and spark the second American Revolution.