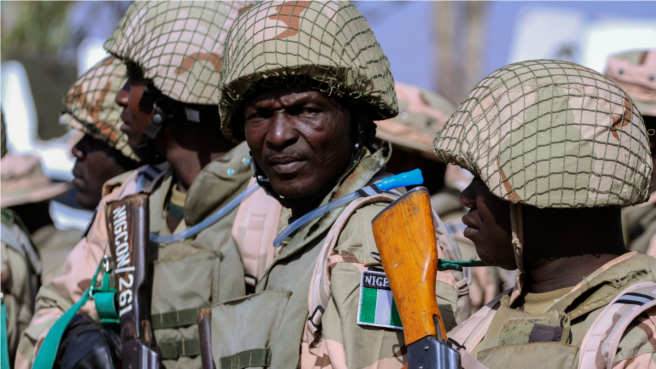 The wives and children of soldiers have laid seize at the Giwa Barracks, Maiduguri, blocking military from sending "poorly armed" soldiers to fight Boko Haram insurgents in Gwoza.
Early on Saturday, the families of Nigerian soldier setup a blockade outside an army barrack to prevent authorities from sending out soldiers.
The protesters blocked the gates of the barracks that houses the 21 Armoured brigade of the Nigerian army and refused to let the army trucks pass through, reported Premium Times.
The families demanded that the Nigerian soldiers be given quality fighting equipment, before they are sent off to fight the Boko Haram insurgents.
The protesters continued to occupy the army gates even on Tuesday.
Following the protest, the authorities at the barracks were forced to reverse the orders to deploy the soldiers to Gwoza.
A soldier in Maiduguri told the local daily that "There was a stand down order on the deployment of troops to Gwoza from Giwa Barracks. So we are watching for now; the women really tried and we expect the ogas (superiors) to start thinking better arms for us, or no deployment ".
The Nigerian Army, however, in a statement said that it was normal for any family member to interfere with Army's procedures.
"Furthermore, it was made clear that while the Army remains sensitive to the needs of the family members, it was not normal or proper for any Officer or Soldier to decide where he or she be deployed, neither will such demand be encouraged from spouses in a period of serious operation when the entire nation was depending on the Army to address the security challenges," the statement read.
Earlier last week, Boko Haram seized Gwoza and since then several hundreds of citizens, including soldiers have been killed by the group.
In the past too Nigerian soldiers have raised issues of poor weapons being supplied to them. There has been a growing dissatisfaction with the military top brass about soldiers having a better armed enemy such as the Boko Haram.
A wife of a soldier, who spoke to the BBC on condition of anonymity, said: "Now [the army] want to send our husbands to Gwoza and we said 'no'."
"Our husbands have been fighting Boko Haram for six years now. If they get killed or injured, they [the army] will not take care for us," she added.