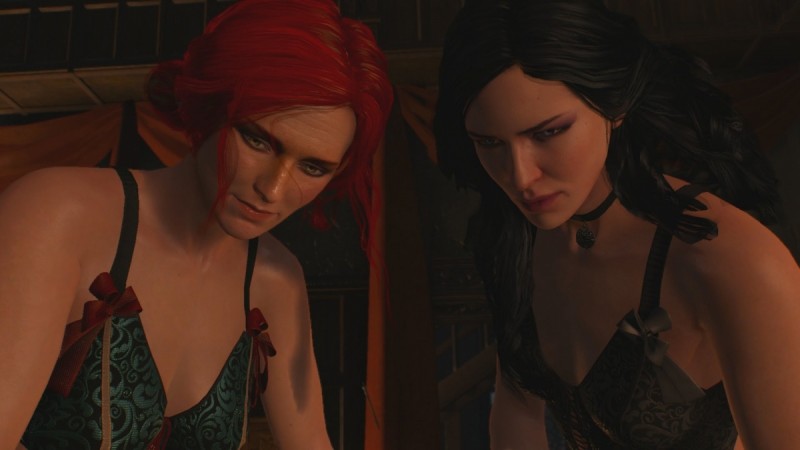 Geralt of Rivia is a man of many shades; at times he's a dedicated father looking for his daughter, while at others he is a fearless witcher who roams the land in search of game. But above anything else, he's also a lover and a charmer, and Yennefer knows a thing or two about that.
Apart from Yennefer, Geralt also had a moment or two to share with the likes of Keira Metz and Triss Merigold (a former love of Geralt who still loves the man like she always did). But all the ones mentioned above are already found and tested love sequences that you will anyway come across in the game.
What most people won't know is that Geralt can also embark on yet another romantic questline in The Witcher 3: Wild Hunt. And although this sequence is slightly hidden as compared to the others, it does pan out in the likeliness to the one with Keira, which doesn't necessarily end up in a budding relationship.
We are talking about the woman named Jutta, who's located in the Skellige Isles and can be found on top of a hill. And here's a guide that will show you her exact location and what you need to do to lay with her.
The Witcher 3 Guide – Find Jutta Romance Sequence
As mentioned earlier, to locate the Jutta Viking romance sequence, you will first need to head over to the Skellige Isles and find and challenge the woman on top of a hill.
The woman, known just as Jutta, is the one who has never been beaten in a battle. When she comes across Geralt, it's almost evident that she hasn't even heard of the man ever in her life.
When you come across Jutta, upon challenging she will task the player with collecting a blade believed to be resistant to nicks, cracks, and other such issues, also triggering the Iron Maiden quest.
Later, when the player returns with the sword that he was tasked to find (located underwater, and guarded by Sirens), she will agree to do battle with the player.
Before taking on Jutta (in hopes of sleeping with her), know that she's an extremely skilled and tough to beat swordswoman. She will put in quite the fight to maintain her status as an unbeatable. To beat her, make full use of your parrying and dodging skills.
When you are finally able to beat her, Jutta will congratulate you and enquire about your training. At that moment, speak to her about Kaer Morhen that will not only flatter her but she will want to hear about it more, somewhere in private (if you get the hint).
If you agree to her proposal, she will take you to her home on the beach after dusk, and it's hardly for just a cup of coffee.
On talking with her at her home, you will find out that she had promised to lay with the man who would be able to defeat her in battle, and that man is you.
If in-game make out sequences aren't your cup of tea, you can always chat up a bit with her and turn down her offer. However, if you are more direct in your approach, you will make Jutta one happy woman.
If you are still naive as to when the steamy bit starts, your cue should be the cheesy romantic music in the background, followed by a bare-bodied Geralt showing off his scarred torso, and eventually ending with passionate background sounds of intense romance.
There you have it. A completely new make out sequence in the game that doesn't necessarily involve Keira, Triss or Yennefer. Did you get to make out with Jutta, or did you turn down her offer? Let us know in the comments section below.
[Source: Twinfinite]