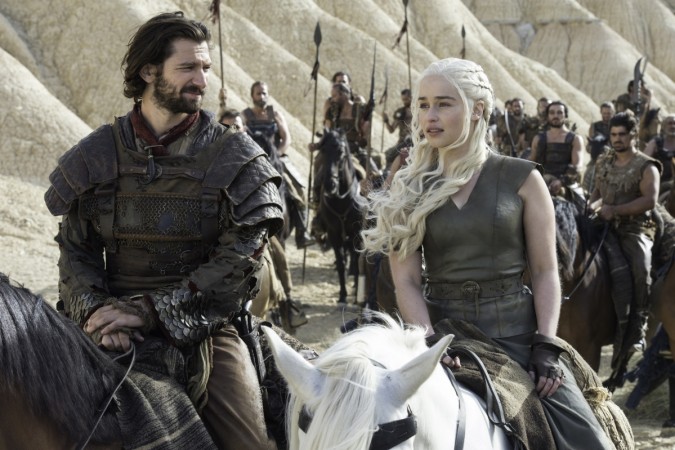 "The Winds of Winter," the next instalment in the "A Song of Ice and Fire" series by George R. R. Martin, is expected to be released in 2017 and according to a popular theorist, it could feature an interesting interaction between Daenerys and Jon Snow.
Brynden B Fish, a popular "A Song of Ice and Fire" theorist, recently told Verge that there's a possibility of Daenerys and Jon Snow falling in love. However, he has also not discounted the possibility of Jon Snow killing off the Mother of Dragons. This could happen if Jon Snow is Azor Ahai reborn.
"I think one of the bittersweet ways that the series will end, will be with Jon killing Daenerys. If he is Azor Ahai reborn. Azor Ahai, in the original story, plunged a sword into the heart of his wife, killing her, in order to forge this blade to defeat... probably the Others. Whether they fall in love before that, that's perfectly plausible," Fish said.
As for the release date, Fish too believes that a 2017 release date is quite possible. But the bigger question is if it would live up to the hype. "It's not talked about as much now, but five years ago when a Dance With Dragons came out, George was mostly satisfied but he had intended for the Battle of Winterfell and the Battle of Fire to end the book and that's where those two storylines would naturally conclude. He had to push those events back into The Winds of Winter, which led to a lot of fan disappointment."
There hasn't been any official confirmation on the release date, with Martin saying it will be announced on his blog once the book is completed. His U.K. publisher, too, said in a recent interview that Martin was working hard to finish the book.