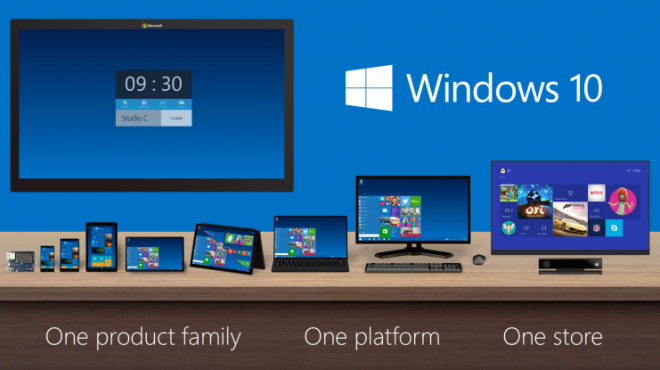 Windows 10 will be available to customers on 29 July, confirmed Microsoft in an official blog post on Monday, 1 June. The news comes to consumers after much anticipation around the new OS' release, which was vaguely pinned down to a summer release. The official date lets users know as when to expect Windows 10 on their new and old machines. The Redmond-based software titan has less than two months to iron out all bugs and issues before rolling out a bug-free OS to all its users around the world.
Microsoft has managed to attract a lot of users by its free upgrade offer to Windows 7 and Windows 8.1 users. However, the mystery remains unsolved around the pricing of Windows 10 as Microsoft hasn't confirmed how much it will charge to upgrade older Windows XP, Windows Vista computers.
If you are too curious about the pricing of Windows 10, popular online retailer Newegg.com has listed the unreleased OS for pre-orders. According to the computer hardware and software retailer, Windows 10 Home will be priced at $109.99, which is roughly about ₹7,000, and the Windows 10 Professional will cost $149.99, which is about ₹9,500.
Even though the pricing seems right, which is almost identical to Windows 8.1, the official price of the new OS might differ at launch; at least the unofficial product listing gives us a ballpoint figure of what to expect from Windows 10 in terms of pricing.
Those who are eligible for free Windows 10 upgrade, specifically Windows 7 and Windows 8.1 users, are getting an upgrade notification on their systems. Clicking open the notification from the system tray brings a popup explaining how the free upgrade works along with some key features of Windows 10. But if you are running a non-genuine version of Windows 7 or Windows 8.1, Microsoft will offer the upgrade by asking its users to pay for a genuine license.
Before installing the new Windows 10 OS on your existing machines, it is advised that users check for these minimum requirements. The computer must have a processor with at least 1GHz speed or higher, 1GB 32-bit or 2GB 64-bit RAM, 16GB free space, Microsoft DirectX 9 graphics device with WDDM driver and a Microsoft account with internet access, PC World reports.