You know you have picked a good read when the enormous amount of data being thrown at you does not throw you off the underlying narrative the author is trying to get across to you. That is one of the biggest successes of Win-Win Corporations by Shashank Shah, published by Penguin India.
Also read: India's Wars — A Military History, 1947-71: A deserving salute to Indian armed forces | BOOK REVIEW
What works for the book
Win-Win Corporations makes no pretences. It is out-and-out a description of how some of the biggest organisations in India – irrespective of whether they are homegrown or with a foreign parent company – achieved success despite great odds. And in each fork at the road, the highlight appears to be their focus on people – either within the organisation or customers.
Shah – described on the book's sleeve as "a visiting scholar at Harvard Business School" – has conducted extensive interviews with people within organisations such as Hindustan Unilever Ltd, TVS Motors, the Taj Group of Hotels, HDFC Bank and Bharat petroleum, and come up with insights on what truly shaped them, and how they helped shape India along with them.
The anecdotes Shah intersperses his data with at times threaten to hijack the point he is making, but with the return of context, most of them end up driving the point home. Anecdotes like how L&T managed to find a solution to get water to the Tirupati temple atop a hill in less than three months is not only interesting but also provides a peek into how corporate India worked at the time, and probably still does.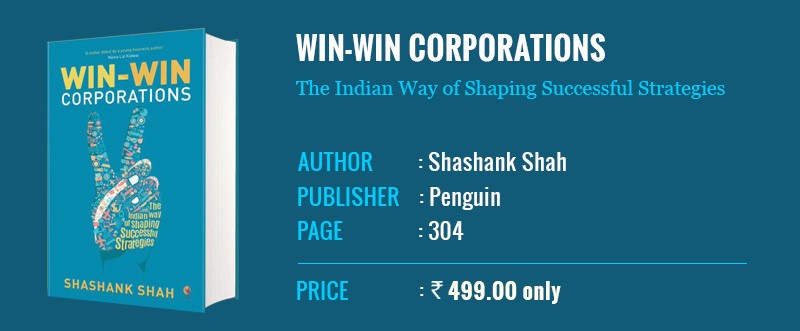 What drags the book down
Extolling the virtues of Win-Win Corporation – as Shah describes the organisations he profiles – may be what the author had set out to do, but at places the narrative gets a little too hagiographic. Sure, there are incidents where a company gets dragged down, but if one were to go by Win-Win Corporations, they come out with flying colours and smelling of roses! That is hardly ever the case of a corporate entity in real life.
What must also be remembered by young entrepreneurs who are looking to use this book as a stepping stone to success is that each of the situations described in Win-Win Corporations had its own set of circumstances that were overcome with a very specific set of actions. Simply emulating those actions and expecting success in this day and age is not enough.
Conclusion
Perhaps that is why Shah, towards the end of the book, provides an implementation toolkit for greenhorns out there to implement. Shah also does a good job of encapsulating the points he is trying to make – with small sections at the end of each chapter, and an entire chapter on his own reflections on the topics discussed in the book.
In the end, Win-Win Corporations is a book aimed at not only a reader but also a doer. Only, the doer has to ensure this is not the only book he or she follows in his or her endeavours.