Would you give up your smartphone for $100,000? Think before you commit because there's a contest that could reward you with $100,000 if you can refrain from using a smartphone for a year. After completing the contest, you can get back to endlessly scrolling through feeds and have equivalent to Rs 71 lakh in your bank account. Not so bad, eh?
Vitaminwater, a Coca-Cola-owned brand, is betting this huge sum on anyone who can live a smartphone-free life for a year. But smartphone addiction has been one of the hottest debates around the world and most people believe that their smartphone is an extension of themselves. From gaming to entertainment and banking to photography, smartphones have it all and no longer seen as communication-only devices.
So giving up all that for 365 consecutive days may not be as easy as it sounds, which is why Vitaminwater is willing to shell out a hundred grand in dollars for those who actually can. There are some stern rules of the contest, which is expected considering the company is offering a $100K prize.
Firstly, participants must not use a smartphone at all during the entire duration of the contest, even if that means using someone else's smartphone. That's the base rule, which is followed by other instructions such as participants must be legal residents of the United States who are 18 or older and own and use a smartphone.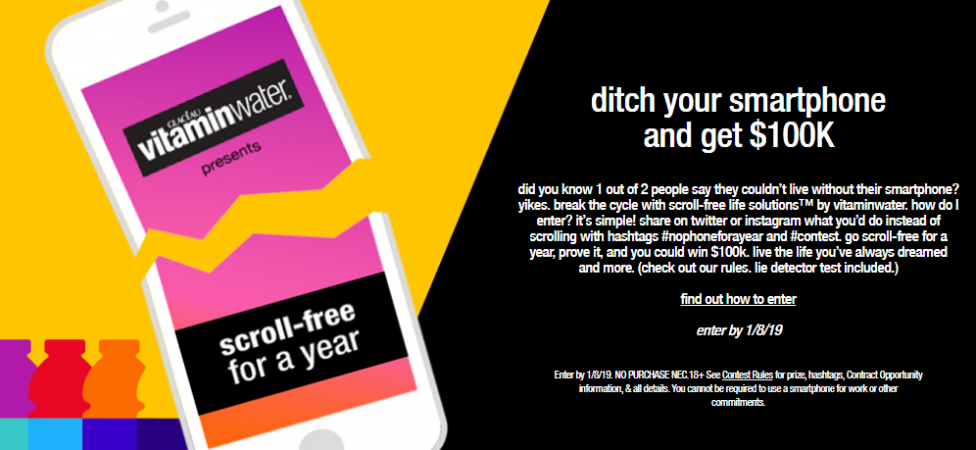 You can expect people rushing to participate in this free-reign contest, which is why Vitaminwater will pick its own bunch of participants based on originality, brand relevance, humor and quality of the submission. If your excuse is that you need to use a smartphone for work, the contest rules clearly say they "need not apply."
Oh, and yes, if you're considering some trick or using your smartphone in the bathroom in complete solitary, Vitaminwater will know. Don't worry about being under surveillance every hour of every day for a year, but the company will know. The rulebook clearly states that there will be a lie detector test to make sure you're telling the truth as it's difficult to not bend the truth or straight out lie when there's $100,000 at stake.
So what happens if you get caught lying? Fret not, there's no legal binding and the worse that could happen is getting eliminated from the contest (and go back to your smartphone addiction).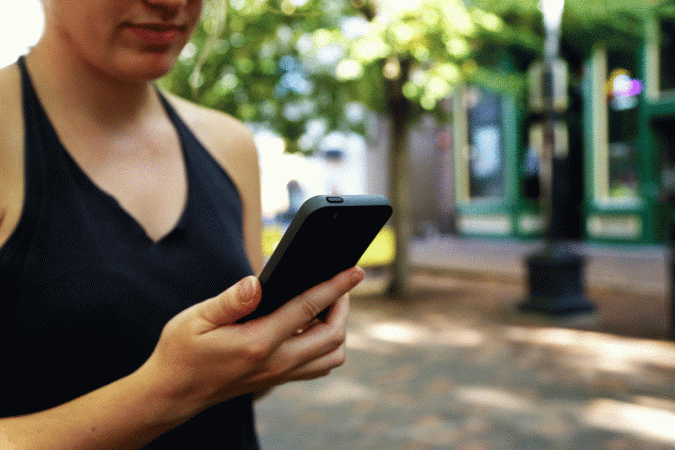 Ditching your smartphone for the $100,000 contest doesn't mean you'll be thrown into the Stone Age time. You'll still have access to phone calls with a basic 1996-era mobile phone with a year-long cellular plan. Isn't that Stone Age? By today's standards, maybe.
Vitaminwater's generosity extends beyond handing a classic dumb phone for a year. Using laptops and desktop computers are OK to use, and surprisingly, so is using smart devices like Google Home and Amazon Echo. Now that's somewhat comforting.
If I'm to participate in the contest, it would be tougher than ever to give up on my smartphone. I'm seen scrolling through my phone even when Digital Wellbeing turns the phone to black and white after a set time. If $100,000 won't do it for me, wonder what will. But if you're nothing like me and feel confident that you can pass the challenge with flying colours, here's how you can participate.
Vitaminwater will pick participants from Twitter and Instagram. Interesting folks must create a tweet or a post on Instagram explaining how you would use your time away from smartphone and share it with the hashtags #NoPhoneforaYear and #contest before January 8, 2019. The company will reach out to selected individuals through social media by January 22 and participants will be required to sign a contract for not using a smartphone for the next year.
People have already started making submissions and there are some interesting ones out there. You think your post can catch the eyes of the folks at Vitaminwater? See for yourself.