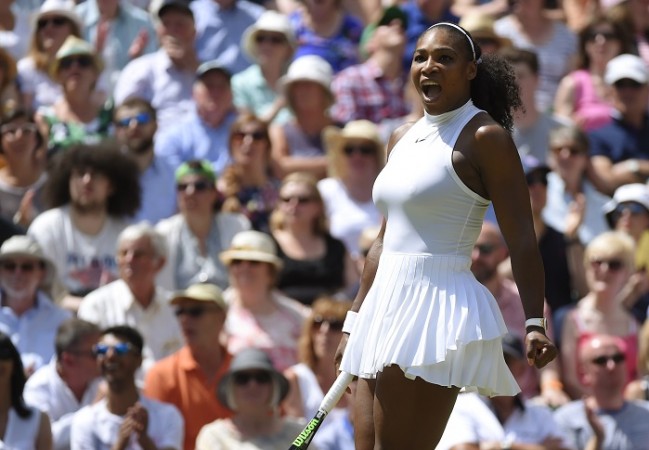 The last time Serena Williams played Angelique Kerber in a Grand Slam final, it didn't go according to plan for the American. The world number one will hope for a different outcome this time around, when the two players meet in the final at Wimbledon on Saturday.
Women's singles final day at Centre Court was the last time Serena tasted Grand Slam success, with the American, since, failing to take that all-important step.
Get the final score and report HERE
After she was dumped out in the semifinals of the US Open by Robert Vinci last year – with it ending the 34-year-old's hopes of completing a Calendar Grand Slam – Serena has lost in the Australian Open and French Open finals.
The first of those losses in the final came against Kerber, who played the match of her life to beat Serena in three sets and clinch her first ever Grand Slam title. Having played some outstanding tennis to reach the final at Wimbledon, including a win over Venus Williams in the semifinals, which ended hopes of a Williams sisters finale, Kerber will now want to emulate her performance in Melbourne earlier this year.
"I think for sure I will go out there with a lot of confidence," Kerber told reporters after her semifinal victory on Thursday. "At the end it's a completely new match. We are playing on grass court. She (Serena) lost the final against me, and I know she will go out and try everything to beat me right now.
"I will just try to going out there like in Australia, trying to show her, 'OK, I'm here to win the match, as well'. I know that I have to play my best tennis to beat her in the final here."
Serena was certainly at her best in the semifinal, blowing away Elena Vesnina 6-2, 6-0 in just 48 minutes. When Serena plays like that, where she gets all her first serves in, where the winners keep flowing off her racquet, there is no player in the women's game capable of staying with her.
But, Serena has tightened up, played nervous tennis every time she has come close to matching Steffi Graf's Open era record of 22 Grand titles. If the American wins Wimbledon on Saturday, she will join Graf at the top of that illustrious list, but having failed in her last three attempts at doing just that, the pressure will be intense on Serena.
"My goal has never been 22," Serena said when asked about reaching that major milestone, even though the pressure of that record has clearly prevented her from playing her best tennis in the last two Grand Slam finals. "I don't talk about that anymore.
"It would be a good match, I think. Whether I win or lose, I'm always supportive of our champions. So I think once I'm on the court, I'm really intense and I give everything I can. When the moment's over, I try to be as positive as I can at that moment.
"Obviously it's significant that she (Kerber) beat me in Australia because that's the last time we did play. And also just as an opponent, she's great. She does things well. She moves excellent. She's fun to play.
"I think either way, I'll be motivated on both sides."
Where to Watch Live
The Wimbledon women's signles final between Serena Williams and Angelique Kerber is scheduled for a 2 p.m. BST (6.30 p.m. IST, 9 a.m. ET) start. The live streaming and TV information is below.
India: TV: Star Sports 1/HD1. Live Streaming: Starsports.com and Hotstar.
UK: TV: BBC Two. Live Streaming: BBC iPlayer.
USA: TV: ESPN. Live streaming: Watch ESPN.
Germany: TV: Sky Sport. Live Streaming: Sky Go Germany.
Asia: TV: Fox Sports Asia. Live Streaming: Fox Sports Play Asia.
France and Middle East: TV: Bein Sports. Live Streaming: Bein Sports Connect.
Australia: TV: Fox Sports. Live Streaming: Foxtel.
Europe: TV: EuroSport. Live Streaming: EuroSport Player.
Canada: TV: CTV and TSN. Live Streaming: TSN TV.
China: TV: Beijing TV, LeTV Sports, Jiangsu TV.