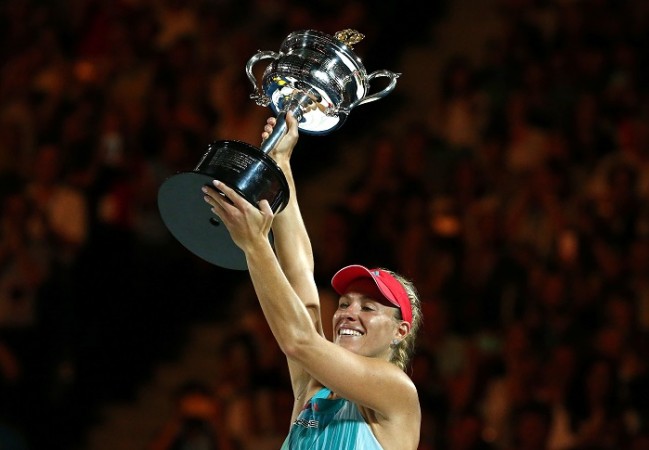 When Serena Williams fired a volley just wide far enough away from Angelique Kerber, it looked like a portent of things to come. But then, a break came the German's way in the third game, and a fair few unforced errors from Serena's forehand, and just like that the first set was won, and from there hope did not just spring eternal, It sprung up into a wonderfully-elegant, tall silver trophy, a trophy that the beaming Kerber will cherish for the rest of her life.
This was an Australian Open women's singles final for the memory banks, the rewind and play and rewind and play again, because from point one to the end, it was high-quality tennis, of such high quality that even Serena did not have an answer in the end.
"You played the best in the tournament," Serena said of Kerber during the presentation ceremony. "Let me be the first to congratulate you and I hope you enjoy the moment."
Try as the American, aiming to match Steffi Graf's Open era record of 22 Grand Slams, might, she could not find a way past Kerber, who was plain and simple outstanding, clinching her first ever Grand Slam title with a 6-4, 3-6, 6-4 victory in two hours and eight minutes.
It was almost as if Graf from 20 years ago had entered Kerber's body (well, a mirror spirit maybe, considering Kerber's left-handed) determined to quell Serena's hopes of joining the legendary German at 22 majors.
It all began in the third game of the first set, with Kerber, with that almost gritty elegance of hers, breaking Serena to go 2-1 up. You expected Serena to break back immediately, or, at the very least, fight back and level the set at some point. Nope. Those expected nerves from Kerber did not come, but what kept coming was ball after ball back at Serena, who could not cope in the end.
"When I played here in the first round, I was down match point, and I had one leg in the plane to Germany, but now I am here. So now I am here playing the final against Serena and to win, it is my dream come true, this night is a dream," Kerber said as she choked up, trying to hold back those tears of near disbelief and joy.
"My whole life I was working really hard and now I'm here I can say I am a Grand Slam champion and that sounds really crazy."
Every first serve from Serena, that normally might have been an ace, kept coming back, and that too with interest, making it so difficult for the American, who had 47 winners and 46 unforced errors to Kerber's 25 and 13. It is extremely rare that you see Serena struggling to figure out what is going on, on court, but today was certainly one of those days.
For all her struggles, though, Serena forced this epic women's singles final of the 2016 Australian into a final set, powering her way through in the second, via a single break in the fourth game.
However, that spirit of Kerber would not be broken, and after failing to hold her serve while serving for the championship, the new world number two somehow found a way to break Serena back immediately in the tenth game of the final set to create history.