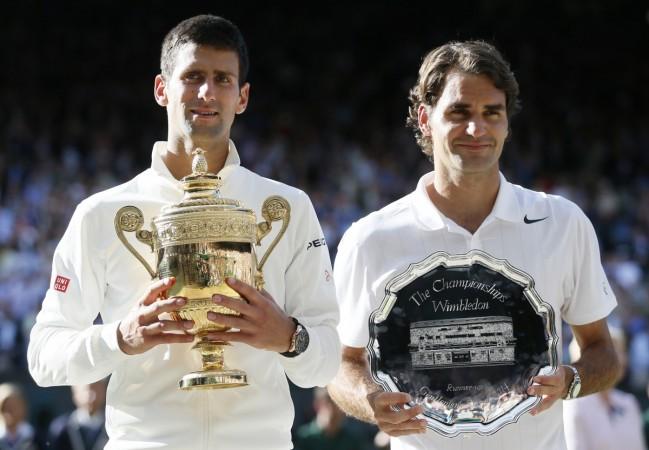 Eight-time Wimbledon champion Roger Federer will take on Serbian tennis star Novak Djokovic in the final of Wimbledon 2019 at the All England Club on July 14. The Swiss legend defeated arch-rival Rafael Nadal to qualify for the final whereas Djoker defeated Spaniard Roberto Bautista Agut in the last four.
Preview and prediction
After having a shaky start to the tournament, the journey of the Swiss legend has been more or less smooth. In the quarter-final clash against Kei Nishikori, the 37-year-old had a major hiccup in the first set as the Japanese broke him once and won the set. But after the first set was over the audience experienced vintage Federer play as he won the match 4-6, 6-1, 6-4, 6-4. The best of Federer came out in the match against arch-rival Rafael Nadal. After winning the hard-fought first set he was demolished in the second by the Spaniard. But the veteran player bounced back in the third set onwards and won the match 7-6, 1-6, 6-3, 6-4. His backhand shots were perfect and he won most of the rallies with dominance. The Swiss legend also committed less number of unforced errors and did not let his opponent take an upper hand over him in the match. He is definitely the biggest contender to lift the trophy.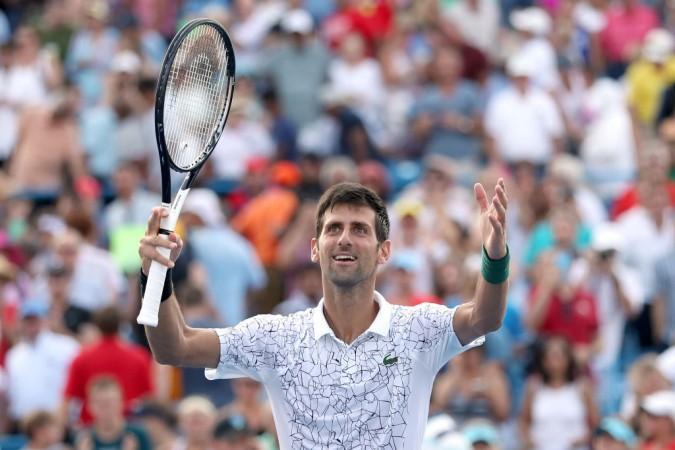 Novak Djokovic is enjoying the form of his life at the All England Club. He has lost just two sets in the whole tournament and has started every match slowly before pouncing onto the opponent. He faced a little bit of heat against Polish tennis player Hubert Hurkacz in his third-round fixture. In his semi-final match against Spaniard Roberto Bautista Agut, he looked much more dominant of the two. He lost the second set but did not let his opponent stand a chance against him in the next two sets winning the match 6-2, 4-6, 6-3, 6-2. He definitely has the upper hand over the ageing Federer and he is the current world number one also.
The match is going to be a hard-fought one and could lead to a five-set decider. Federer will want to win it by maximum four sets whereas the Joker will look forward to taking it to the fifth set as he knows that his older opponent will have problems.
Schedule, global TV listings, live streaming and where to watch in India
Roger Federer-Novak Djokovic contest is supposed to get underway at 3 PM local time and 6.30 PM IST.
The matches will be telecasted in India on Star Sports and Star Sports HD. Internet users can watch live streaming on Hotstar. The official global TV listings are below:
BROADCASTER
TERRITORY
1TV (C-M-C Agency)
NORTH MACEDONIA
ARQ (NOVA/CET 21/TV MARKIZA)
CZECH REPUBLIC & SLOVAKIA
BBC
ENGLAND, SCOTLAND, WALES, NORTHERN IRELAND
beIN SPORTS
EX: FRANCE, MONACO & FRENCH OVERSEAS TERRITORIES, NON EX: ANDORRA, MAURITIUS, MADAGASCAR, FRENCH SPEAKING SWITZERLAND
beIN SPORTS
ex: BAHRAIN, IRAN, IRAQ, LEBANON, OMAN, PALESTINE, QATAR, SAUDI ARABIA, SYRIA, UAE, YEMEN, ALGERIA, EGYPT, LIBYA, MOROCCO, TUNISIA
NON-EX: CHAD, DJIBOUTI, MAURITANIA, SOMALIA, SOUTH SUDAN, SUDAN
BELARUS 5
BELARUS
CANAL PLUS AFRIQUE
BENIN, BURKINA FASO, BURUNDI, CAMEROON, CENTRAL AFRICAN REPUBLIC, COMOROS, CONGO, DEMOCRATIC REPUBLIC OF CONGO, EQUATORIAL GUINEA, GABON, GUINEA BISSAU, GUINEA CONAKRY, IVORY COAST, MALI, NIGER, RWANDA, SENEGAL, SEYCHELLES, TOGO, CHAD, DJIBOUTI, MADAGASCAR, MAURITANIA, MAURITIUS, ETHIOPIA
CCTV5
CHINA
CTV/TSN
CANADA
CYTA
CYPRUS
EIRCOM
IRELAND
ESPN
UNITED STATES
ESPN LATAM & ESPN LOCAL CHANNELS
SOUTH AMERICA - ARGENTINA, ANTARCTICA, BOLIVIA, CHILE, COLOMBIA, ECUADOR, PARAGUAY, PERU, VENEZUELA, URUGUAY,CARIBBEAN - MEXICO, BELIZE, COSTA RICA, EL SALVADOR, GUATEMALA, HONDURAS, NICARAGUA, PANAMA, BAHAMAS, BERMUDA, TURKS AND CAICOS, TRINIDAD AND TOBAGO, ST. VINCENT, ST BARTHELEMY, ST LUCIA. ST KITTS AND NEVIS, MONTSERRAT, MARTINIQUE, JAMAICA, HAITI, DOMINICAN REPUBLIC, GUADELOUPE, GRENADA, DOMINICA, CAYMAN ISLANDS, BRITISH VIRGIN ISLANDS, BARBADOS, BONAIRE, CURACAO, FRENCH GUIANA, GUYANA, ST MAARTEN, SURINAME, ARUBA, ANTIGUA AND BARBUDA, ANGUILLA, ASCENSION ISLAND, FALKLAND ISLANDS
EUROSPORT
BELGIUM, NETHERLANDS, BALTICS, ALBANIA, BOSNIA-HERZEGOVINA, CROATIA, KOSOVO, MACEDONIA, MONTENEGRO, SLOVENIA, SERBIA, BULGARIA, ROMANIA, HUNGARY, FINLAND, NORWAY, SWEDEN, MOLDOVA, ARMENIA, RUSSIA, UKRAINE, LATVIA, LITHUANIA, ESTONIA, ICELAND, TURKEY, AZERBAIJAN, GEORGIA, KAZAKHSTAN, KYRGYZSTAN, TAJIKISTAN, TURKMENISTAN AND UZBEKISTAN.
FOX ASIA
PAN-ASIA - BRUNEI, CAMBODIA, CHINA, EAST TIMOR, HONG KONG, GUAM, INDONESIA, LAOS, MACAU, MALAYSIA, MICRONESIA, MONGOLIA, MYANMAR, PAPAU NEW GUINEA, PHILIPPINES, SINGAPORE, SOUTH KOREA, NORTH KOREA, TAIWAN, THAILAND, VIETNAM
FOX SPORTS
AUSTRALIA
GLOBOSAT
BRAZIL
GO MULTIPLUS
MALTA
HRT
CROATIA
JTBC
KOREA
KANAL 12
ESTONIA
MOVISTAR + / TELEFONICA
ex. SPAIN non ex. ANDORRA
NOS
NETHERLANDS
NHK
JAPAN
NOVA/FORTHNET
GREECE
POLSAT
POLAND
RTCG (FTA)
MONTENEGRO
RTRS (FTA)
BOSNIA & HERZEGOVINA
RTS
SERBIA
RTSH
ALBANIA
SEVEN
AUSTRALIA
SKY DEUTSCHLAND
ex GERMANY & AUSTRIA non ex LIECHENSTEIN, LUXEMBOURG, SOUTH TYROL
SKY ITALIA
ex ITALY, VATICAN CITY, SAN MARINO, non.ex SWITZELRAND
SPORT TV
PORTUGAL
SPORT 5
ISRAEL
SPORTKLUB
FORMER YUGO
SPORT 24
INFLIGHT
SRG
SWITZERLAND
STAR INDIA
INDIA, BANGLADESH, BHUTAN, NEPAL, PAKISTAN, SRI LANKA, MALDIVES
SUPERSPORT
SOUTH AFRICA, ANGOLA, BENIN, BOTSWANA, BURKINA FASO, BURUNDI, CAMEROON, CAPE VERDE, CENTRAL AFRICAN REPUBLIC, COMOROS, CONGO, DEMOCRATIC REPUBLIC OF CONGO, EQUATORIAL GUINEA, ERITREA, ETHIOPIA, GABON, GAMBIA, GHANA, GUINEA, GUINEA-BISSAU, IVORY COAST, KENYA, LESOTHO, LIBERIA, MADAGASCAR, MALAWI, MALI, MAURITIUS, MAYOTTE, MOZAMBIQUE, NAMIBIA, NIGER, NIGERIA, REUNION, RWANDA, SAO TOME& PRONCIPE, SENEGAL, SIERRA LEONE, SEYCHELLES, SOCOTRA, ST HELENA & ASCENSION, SWAZILAND, TANZANIA, TOGO, UGANDA, ZAMBIA, ZIMBABWE, ZANZIBAR,
TDM
MACAU
THE TENNIS CHANNEL
UNITED STATES
VTV Cab
VIETNAM