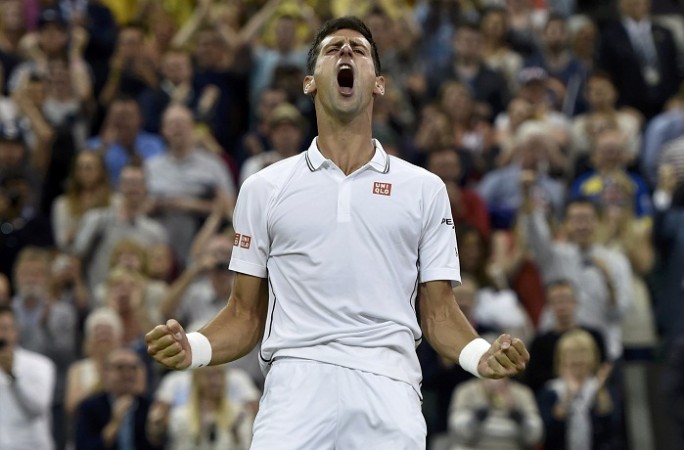 Six-time grand slam champion Novak Djokovic and one of the budding talents in the ATP circuit Bulgaria's Grigor Dimitrov will come face to face in the first semifinals of the Wimbledon at the Center Court on Friday.
Djokovic has not lost to a player outside top-10 since 2010 Wimbledon semifinal, and heading as favourite against Dimitrov in the contest. The Serbian has defeated the Bulgarian thrice in their four previous meetings, including their most recent clash in 2013 French Open third round.
The world number two is pitted as a favourite, along with Swiss maestro Roger Federer, to clinch the title, after defending champion Andy Murray and two-time champion Rafael Nadal crashed out of The Championships.
Djokovic, however, has played down the tag of title favourite but will be under pressure to live upto the expectations. The top-seed, who prevailed over Marin Cilic in the quarterfinals, insisted he is not taking his opponent lightly ahead of the last-four clash.
"It doesn't affect me at all because I just try to focus on my own matches - that's something I can influence," said Djokovic. "Media and fans are always expecting the top guys to reach the final stages. If it doesn't happen, it's obviously a surprise.
"It proves in a grand slam you cannot underestimate any opponents," he added. "There are new young players that are challenging the best and are winning against the best players in the world. That's why they deserve to be where they are now."
Meanwhile, Dimitrov after crushing home-town hope Murray in the last-eight clash is heading into his maiden Grand Slam semifinal with a lot of confidence. World number 13 is on a nine-match winning streak on grass and came into the Wimbledon after winning the title at the Queen's Club.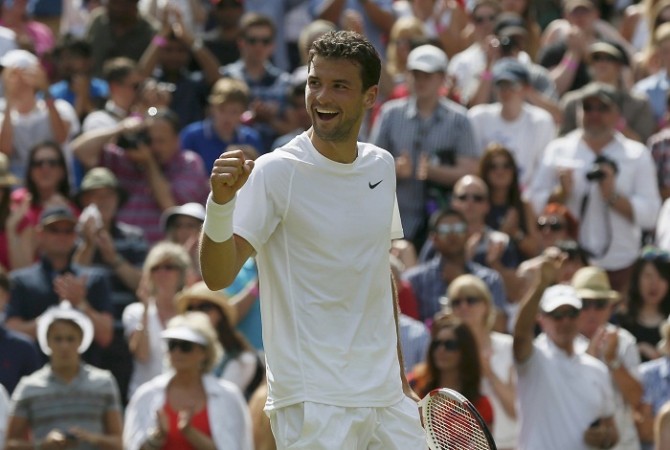 The 11th-seed might have gone down against Djokovic in their last clash, but since then the Bulgarian has massively improved his game. He has won three titles this season and on three difference surfaces, his ranking has also improved and he has become altogether a different player.
"I felt that I've raised my level a little bit on and off the court," Dimitrov said. "Off the court is my focus. My ability to switch when I really have to go another gear. And today I knew I was ready to play. So to me, in my mind, I was really calm and I knew what I had to do. I think I was composed and as calm as possible on the court."
The Haskovo-native insisted that he is not intimidated by Djokovic, who has a better head-to-head record against him, and aiming to give his best against the former champion. The 23-year-old also stressed that it will not be an easy match and he will have to step up his game.
"Fear is out of the picture," declared Dimitrov. "I'm of course not expecting an easy match. But I'm out there to go through a match, to win it. I think we are both going to really want that match. Of course, he has the experience behind him. But at the same time, I've been playing great tennis. I believe in my skills at the moment."
Schedule of Play
Novak Djokovic vs Roger Federer 5:30 pm IST, 8:00 am ET and 12:00 pm GMT
Where to Watch Live
The day's action is scheduled for 5:30 pm IST, 12:00 pm GMT and 8:00 am ET start, with live coverage on Star Sports 1 and Star Sports HD1 in India and live streaming option HERE and HERE. International viewers can catch the action HERE and HERE or listen to the action free HERE.
BBC will broadcast matches live in the UK. Viewers can also live stream the action HERE or HERE. Catch the action live on ESPN in the United States or see live streaming HERE. SuperSport will telecast the action in South Africa and Sub Saharan Africa and viewers can catch the matches live HERE.