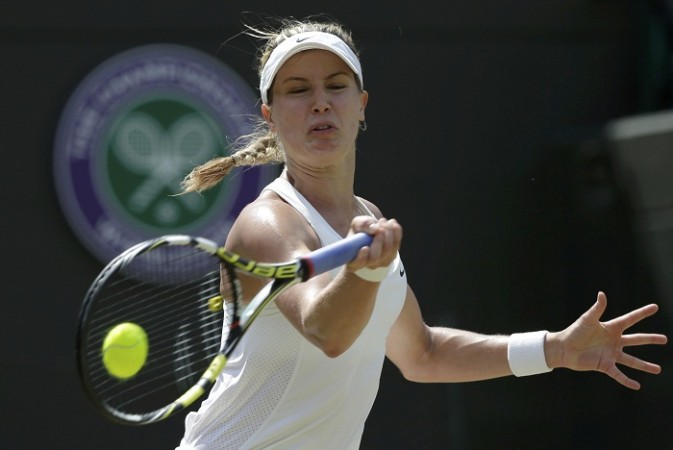 Canadian sensation Eugenie Bouchard booked her third consecutive semifinals appearance in the Grand Slams and is set to face Simona Halep in the last-four clash on Thursday at the All England Club's Center Court.
Bouchard overpowered Angelique Kerber 6-3, 6-4 in the quarterfinals and is certain to break into the top-10 of the WTA rankings. She also became the sixth player since 2000 to advance into the last-four of first three majors.
"I'm excited to be in the semis. But, of course, you know, I'm never satisfied, so I definitely want to go a step further, or as far as I can," Bouchard said. "I think I've played some great players when I lost in the other semis - you can't win every single time."
"But I'm going to look forward to it and try to play a little bit like I played today," she added. "I thought I was pretty solid out there and playing the right way on the grass."
Bouchard and Halep have crossed paths once in the Indiana Wells' Round of 16 and the Romanian managed to prevail over world number 13 in a hard-fought contest.
"We had a good match at Indian Wells," the Canadian said. "I felt like I had chances, was really close, and just lost that one," Bouchard said. "I learned, you know, a little bit about her game. I think she's playing really well."
"I'll just try to go for it and take my chances and leave it all out on the court," she added. "It's the semis, so I'm going to expect the toughest match ever."
Meanwhile, the third-seeded Halep defeated last year's finalist Sabine Lisicki 6-4, 6-0. Initially in the match, Lisicki built a 4-1 lead over the world number three, but Halep regrouped and won five successive games to clinch the first set.
It was a one way affair since then, as French Open finalist whistled past her German opponent and clinched the encounter in less than an hour.
"I was a little bit lost on court. But only in the beginning," Halep said. "Then I tried to keep the rallies going more, just taking it point by point. I did really well and I came back very well. I found a way to play my style - I stayed very aggressive, very close to the baseline, and I stuck to my tactics. I opened the court very well and used the angles when I could."
Schedule of Play
Eugenie Bouchard vs Simona Halep 7:30 pm IST, 10:00 am ET and 2:00 pm GMT
Where to Watch Live
The day's action is scheduled for 4:00 pm IST, 10:30 am GMT and 6:30 am ET start, with live coverage on Star Sports 1 and Star Sports HD1 in India and live streaming option HERE and HERE. International viewers can catch the action HERE and HERE or listen to the action free HERE.
BBC will broadcast matches live in the UK. Viewers can also live stream the action HERE or HERE. Catch the action live on ESPN in the United States or see live streaming HERE. SuperSport will telecast the action in South Africa and Sub Saharan Africa and viewers can catch the matches live HERE.