India cricketers including Sachin Tendulkar, Rahul Dravid and Zaheer Khan did some time in county cricket. Among the current crop of India cricketers, only Cheteshwar Pujara has been a regular in England domestic cricket. Off-spinner R Ashwin is the last Indian to join a county side, and is currently playing for Worcestershire. Ishant Sharma is also expected to join Kent soon.
Head coach of the national team, Ravi Shastri is all up for India players playing county. He feels playing in England will help Indian cricketers in a big way. Shastri feels not only the bowlers, he is open to the idea of captain Virat Kohli, and the likes of top order players like Rohit Sharma and Shikhar Dhawan playing county cricket too.
"I am all for that. Pujara, Ashwin and now Ishant is also going; I think he is joining Kent. These are vital and key players in our team. The more the players go, the merrier . I would love to see Umesh Yadav or Mohammed Shami going there, even if for short periods," PTI quoted Shastri as saying.
"And why just the bowlers, the batsmen should go too. If they want to before the tour, be it Virat Kohli, Shikhar Dhawan, Rohit Sharma or others, I am all for it."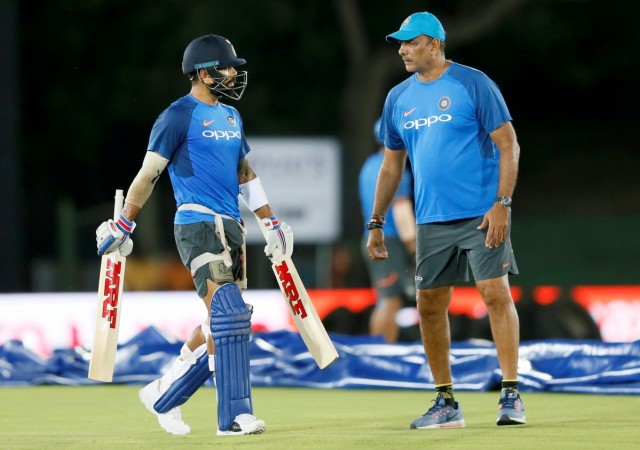 India are one of the giants in world cricket, and are taking rapid strikes, dominating teams in all formats. However, their performance abroad has always been a problem, and with the amount of cricket in the near future away from India, the suggestion from Shastri is a step in the right direction.
India will have to travel to South Africa, England, Australia and New Zealand in the next two years playing county cricket will equip the players for overseas conditions. One also has to remember, the next World Cup is in England as well.
But, there is a problem. India's cricket schedule is so cramped and playing in county could burden them with excessive cricket.
Kohli and Rohit, they are regular players with the Test and ODI team, it might be difficult for them to play county cricket unless the BCCI and team management can come up with alternative plans.