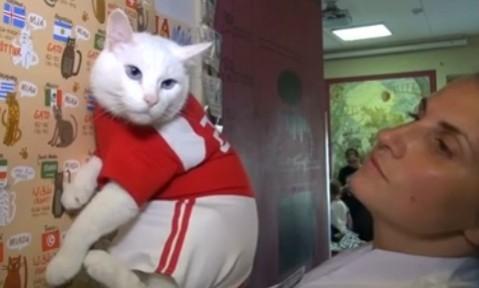 Remember Paul, the Octopus, who was a sensation during the 2010 Fifa World Cup? He used to correctly forecast the outcome of Germany's games and finally picked Spain who eventually won the Cup. As Paul is no more, trainers have turned their eyes to a feline this time.
Achilles, the furry white feline from St Petersburg's Hermitage museum, is being propped by soccer fans as the psychic cat who can help predict the winners and losers in Fifa World Cup 2018 tournament to be held in Russia later this month. He was chosen because he purportedly predicted the winners during the 2017 Confederation Cup.
Achilles is deaf and has no hearing aids. His concentration is utmost and that's what its trainers are banking upon as journalists are sure to distract him before he makes the right choice. All he has to do is to choose between two bowls of food. Each bowl has been docorated with the team flag and Achilles is trained to decipher different teams.
Achilles has been made into a brand of his own with a red soccer jersey and is being projected before the media for adorable pictures, whenever he is not in training. Currently, his training includes looking at a chart of the teams and game schedules, besides an exercise wheel that he is reluctant to use, reports Reuters.
"He is preparing for the World Cup and going through the adaptation process... People tend to feed him more than they should. When he came to us he looked like a football, not a cat, so we decided to put him on a strict diet," said veterinarian Anna Kondratieva.
But sports journalists are upbeat. Achilles' emerging celebrity persona is going to keep them busy to cross check their prediction with that of Achilles everytime. Being one of the world's most-watched sporting tournaments, World Cup is likely to dominate millions of TV and mobile screens throughout the world. Now, Achilles will be an added excitement to it.