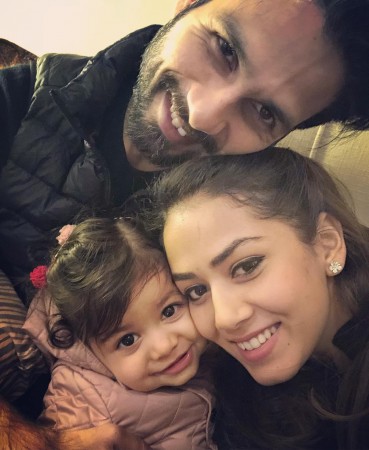 Shahid Kapoor, who had been shooting for Batti Gul Meter Chalu, wrapped up the first schedule of the film on Wednesday, February 21, to fly off to Delhi to join his wife Mira and daughter Misha who have been in the capital city for over a week. The actor will be celebrating his 37th birthday that falls on Saturday, February 25, by attending a 'satsang' with his family in Amritsar.
It was speculated that Shahid, who played one of the leads in Sanjay Leela Bhansali's blockbuster Padmaavat, would attend the grand success bash of the movie on Friday (February 24) to be held onboard an ocean liner.
However, Shahid is likely to skip the lavish party to be with his family on his special day.
A source close to the actor told Mid-Day: "It was a planned weeks in advance that Shahid would celebrate his birthday (February 25) by attending a 'satsang' in Beas, with his family. But when he was invited to the Padmaavat party earlier this week, everyone assumed he would attend the bash and head out to Beas the next morning."
Shahid's absence from the bash, which will see the entire team of Padmaavat including Deepika Padukone and Ranveer Singh, will add fire to the ongoing speculations of trouble between him and Ranveer.
"Shahid isn't one to compromise on his family time. He wants a no-frills birthday with his close ones around him and that's why is heading to the 'satsang' by the Radha Soami sect. He flies off to Amritsar tomorrow and will stay in Beas for a few days, before resuming his shoot," another source told the daily.
For the uninitiated, rumors of the rift between the two male leads – Ranveer and Shahid – has been doing the rounds from the time Padmaavat went on the floors.
Although the two have never bad-mouthed each other, reports of Ranveer and Shahid rivalry continued to make headlines.
Earlier, reports stated that Shahid was unhappy with the trailer that focused on Ranveer's character Alauddin Khilji that overshadowed his role of Maharawal Ratan Singh. There were reports that Shahid too, was eyeing for the role of Khilji, however, in the end, the role went to Ranveer. In a recent press conference, Shahid had commented that he would have played the role of Khilji differently, had he gotten a chance.
In fact, Shahid's comment on having felt like an "outsider" on the sets of Padmaavat further sparked rumors of a rift with Ranveer.