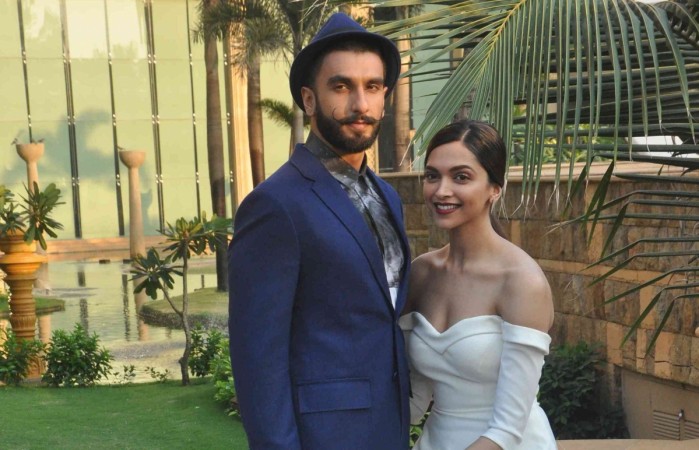 One has to be extremely professional to be working with someone he/she once dated. But there is no way to find out if Ranveer Singh and Deepika Padukone are the kinds who would let their personal differences slide by for the sake of work.
Rumour has it they have broken up over ego issues and now have a film — Sanjay Leela Bhansali's Padmavati — to work on together. However, their personal equation, good or bad, is unlikely to affect the making of the film.
Singh and Padukone's roles are such that they do not have to share a frame. While he will play the role of obsessed lover Alauddin Khilji, the leading lady will essay queen Padmavati, whose only focus in the film will be king Rawal Ratan Singh (Shahid Kapoor).
"It's film where Ranveer plays a hankering suitor, Allauddin Khliji who dared to covet a Rajasthani King's beautiful and revered wife.As per the script Deepika and Ranveer's character never meet. Their relationship is about longing and not fulfillment and completion," a source told SKJ Bollywood News.
The insider further elaborated that throughout the film Singh's character stays away from Padukone's, adding that all her shots, intimate or otherwise, are with Kapoor. "Ranveer is like Raavan in the Ramayan except that he never gets to kidnap his object of adoration, no matter how much he wants her," the source added.
So what could have gone wrong in between Singh and Padukone?
While the rumour is that they have let ego issues come in between them, the stars are keeping mum on the topic. A few weeks ago, Singh said he has stopped worrying about relationship rumours because he knows public memory is short and the fact that they will stop discussing his personal life soon.
Padukone too has similar thoughts. Talking to the HT Cafe, she said she has known well enough what to absorb and what not to, and therefore she doesn't let gossips affect her.
"You can only do things that are in your control. Certain things are a given when you are in this industry. I am sure there are certain advantages and disadvantages of being in this industry. And this is one of the things one has to deal with, and that's totally fine. The ups, the positives, and the love we get is way too much for us to get bogged down by the speculations or the negativity," she added.