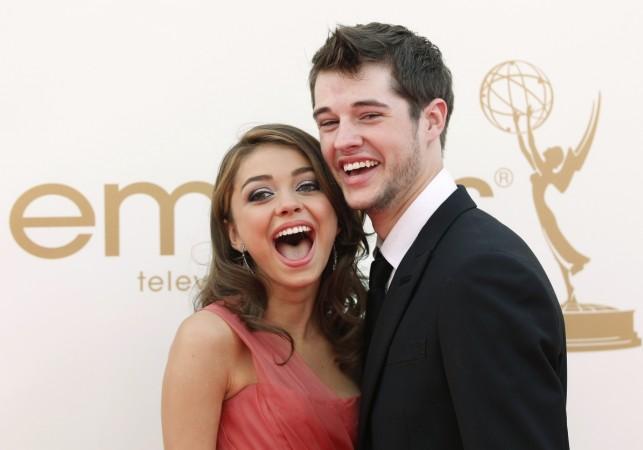 The gap seems to have widened between actress Sarah Hyland and her ex-boyfriend, Matthew Prokop, who were once the power couple of Hollywood, as the former has recently obtained a temporary restraining order (TRO) against the latter, claiming that he threatened to kill her.
TRO is a temporary order that can be obtained from a judge or magistrate with or without the presence of the adverse party, in which the court asks the parties to maintain certain status until it can decide about taking preliminary injunction.
Hyland, who portrays Haley Dunphy in ABC sitcom "Modern Family", got a restraining order after her ex-boyfriend choked her, pushed her and threatened her life, according to TMZ.
The 23-year-old filed a court document against Prokop claiming that he had physically and verbally abused her during the last four years of their relationship.
Prokop, aged 24, allegedly pinned the actress against a car door during an argument over her outfit in May and repeatedly called her c**t and choked her, as per the court papers obtained by the website.
"His grip was so tight that I could not breathe or speak. I was scared and in fear for my life," stated Hyland in the court papers, adding that she had "a very sore throat following this event."
In the court papers, "Modern Family" star stated that she even asked for help from her on-screen mom Julie Bowen, who witnessed some of the abuses by Prokop.
Finally, feared of her life, Hyland decided to "peacefully end the relationship" and sent him back home in Texas. So she bought a plane ticket for Prokop and called him to her house.
But he freaked out seeing Julie and "ran outside into the backyard and began screaming". Then, he threw a lighter at her and threatened to set her house on fire. He also said she would never see her dog again, according to the actress.
Hyland and Prokop, who were in relationship since 2008, called off their five-year-old relationship in late August.
Citing the reason for ending their relationship, Hyland said, "[He] relentlessly bombarded me with vile, threatening and emotionally disturbing texts and voice mails including his own suicide threats."
Hyland also claimed that he joined a rehab facility in August but was released on 21 September. She opted for a restraining order after the director of the facility suggested her to go for it due to the mental state and attitude of Prokop towards her.
After going through the document submitted by the young actress, the LA court granted her a TRO and ordered Prokop to stay at least 100 yards away from Hyland and her dog.
Though both the celebs are being tight-lipped on the issue, Hyland's lawyer said the court granted her a TRO on 19 September.
"The documents filed speak for themselves. Out of respect for the court, the process and all parties, I have advised Ms. Hyland not to comment on the matter. We request that you respect the parties' privacy during this time," he told Daily News.
Whereas, Prokop's father Tony Prokop said he is not aware of the restraining order, "I'm not aware of the filing, but I will look into it."
However, Prokop's Twitter page indicates that he is missing the moments he used to spend with Sarah Hyland. "Here comes that sun again... Means another day without you my friend," he tweeted.