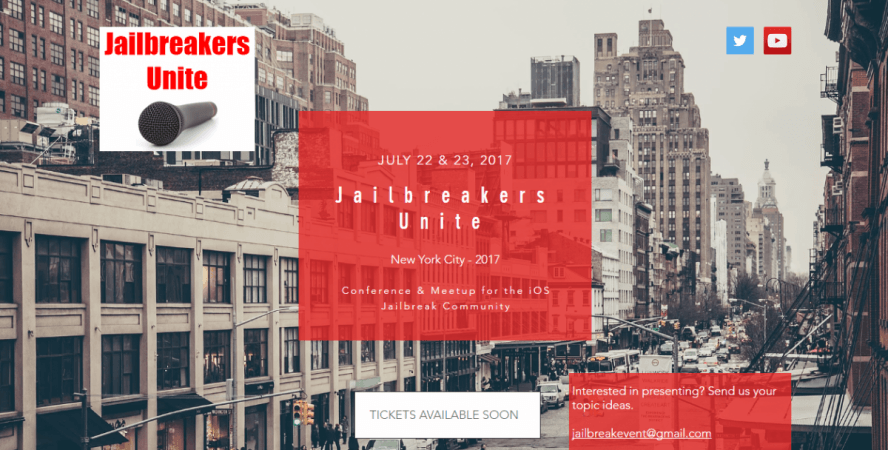 Avid jailbreakers can enjoy the opportunity of meeting the veteran members of the jailbreak community to discuss and share their views on the future of iOS jailbreak at the forthcoming JailbreakersUnite 2017 conference. The event is scheduled to kick off on July 22 at the Fat Cat Fab Lab Maker Space in Greenwich Village in New York City.
Interested participants may join the discussion with popular jailbreak hackers and developers or contribute to the event as a guest speaker on a chosen topic related to iOS jailbreaks. Participants may also take selfies with the veteran members of the community, comprising hackers and jailbreak developers.
Although the event was announced a few weeks ago, there were sparse details on the event schedule and structure. However, the event organiser has now revealed the full day-to-day schedule with the list of people who will be speaking at the venue, besides the timings for each presentation.
Rumours are rife that we might indeed see some new iOS exploits being demoed at the event, ahead of the highly-anticipated iOS 11 release in September.
Here is the full schedule including the date and time for each session in the event:
Saturday, July 22 12.00 – 6.00pm.
12:30 – 1:00 P.M.– William Vabrinskas: repository manager at ModMyi & developer of tweaks such as Boxy
1:15 – 1:45 P.M. – Ryan Petrich: Developer of Activator, FlipControlCenter and countless other core jailbreak tweaks
2:00 – 2:30 P.M. – Logan O' Connel: developer of tweaks such as Falcon
2:45 – 3:15 P.M. – Andrew Wiik: developer for iOSCreatix team, and developer of tweaks such as Horseshoe
3:30 – 4:00 P.M. – Jürgen West: iPro Service and entrepreneur/consultant
4:15 – 4:45 P.M. – Jerrick Davis (ClevrPwn): security researcher
5:00 – 6:00 P.M. – Open Conference Room: time to socialize and work on projects and eat dinner (pizza)
Sunday, July 23 1pm – 5pm.
1:30 – 2:30 P.M. – Jailbreak Setup Competition
2:45 – 5:00 P.M. – Open Conference Room
Following the guest presentations on July 22, there will be a jailbreak setup competition on Sunday (July 23) wherein the event attendees will be required to showcase their jailbroken device setups for a chance to win prizes. The one who garners maximum votes for the best jailbreak setup will be declared the winner.
Prospective attendees of the event are required to book their tickets well in advance as there are only a limited number of seats being sold. The full ticket for the two-day event will cost you $15 while a $10 option is also available for those who plan to attend either on Saturday or Sunday instead of both days.
You may post all your queries to the event organisers via email, besides scheduling yourself as a contributing guest speaker. Do let us know if you would indeed be attending JailbreakersUnite conference in the comments section below.