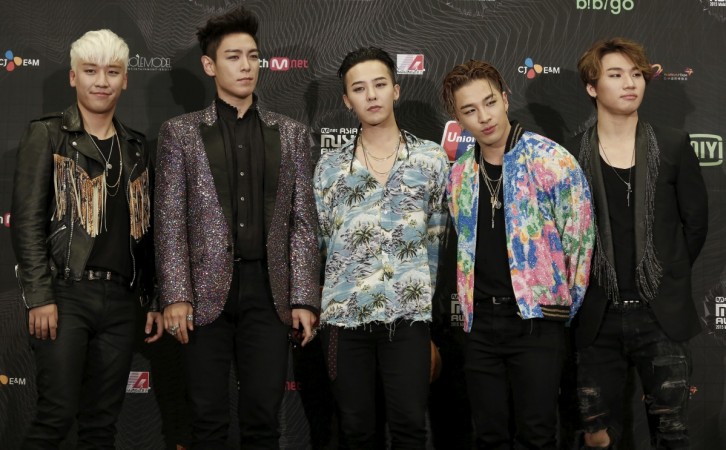 YG Entertainment's BIGBANG has been chosen as South Korea's representative in the forthcoming 2018 Pyeongchang Winter Olympics. The Ministry of Culture, Sports, and Tourism named the K-pop band as the country's Creative Icon after re-branding its slogan to "Creative Korea." While this title is certainly a feat for the five-member band, the question looming on everyone's mind is: Will BIGBANG members' role as Creative Icon affect their military enlistment?
The members of the band are yet to begin their military service but they have to conscript before they turn 32. Since all the members of BIGBANG are in their late 20s, it won't be long before they embark on their compulsory military service. However, it does seem that G-Dragon, Taeyang, T.O.P, Daesung and Seungri may not push their enlistment plans until after the 2018 Winter Olympics is over.
In its recent press release, YG Entertainment stated, "It is true Big Bang's enlistment is approaching. If they are unable to promote during that period, then they will most likely maintain their roles with photos, videos, and other media resources."
The Ministry of Culture, Sports, and Tourism held the same view as well. The government authority stated that the promotions will continue even if some members are absent during the period, Allkpop reported.
So far, YG Entertainment hasn't revealed when members of BIGBANG will enlist. However, the company's CEO Yang Hyun Suk said earlier that all five members will not join the military at the same time.
He did, however, confirm that T.O.P, 28, would enlist first since he's the eldest member of the band. His band members G-Dragon, 27, Taeyang 28, Daesung, 27, and Seungri, 25 could follow suit soon.
As Korea's Creative Icon, BIGBANG members will promote the country beginning from the Rio Olympics 2016 until the Pyeongchang Winter Olympics in 2018.