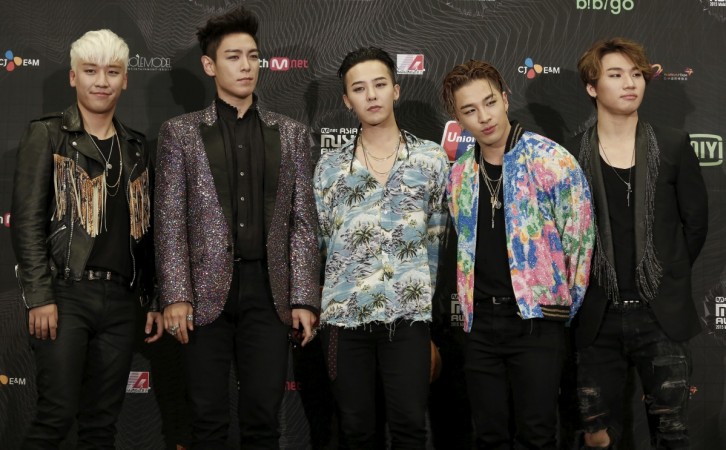 For the past few months, there's been a lot of murmur about BIGBANG members' military enlistment. In fact, these two dreaded words have given fans a lot to worry about their favourite band's future. However, YG Entertainment's CEO Yang Hyun-suk revealed that none of the five members will enlist at the same time.
In an interview with Star News outlet, the media mogul said that the band members have never spoken about enlisting at the same time ever since BIGBANG debuted 10 years ago. According to Yang, the K-pop artists will complete the required amount of time in the South Korean military but refused to elaborate when each member would enlist.
"Eldest member T.O.P will enlist first and the other members will follow suit," Soompi quoted him as saying.
T.O.P, 28, has to complete his time in the military before he turns 32. Other members such as G-Dragon, 27, Taeyang, 28, Daesung, 27, and Seungri, 25 could follow suit soon.
Until now, BIGBANG members have remained vague about their enlistment plans. In an interview with Washington Post, G-Dragon aka Kwon Ji-yong said, "We are Korean, so we have to go someday, but I don't know when it's going to be. Until then, we'll just try hard to do what we got to do."
According to several reports, the K-pop artists could enlist anytime in 2016 or the next year. However, Yang implied that some members of BIGBANG could push it a little further because they are currently working on other music projects.
"BIGBANG's G-Dragon and Taeyang are planning on releasing solo albums next year," he added.
Perhaps fans of the YG Entertainment band will not see their favourite members together for a while. However, it seems as if there won't be a dearth of fresh music for the V.I.Ps.